I know the joys and challenges of motherhood, and one milestone we all face is the thrilling (and sometimes daunting) journey of potty training. If you're like me, you're always on the lookout for the best tools and tips to make this phase smoother.
In this post, I'm excited to share the top 7 best potty training seats of 2023 that have been a game-changer for me and my little one. From those hilarious first attempts to those victorious moments of independence, these seats have been there every step of the way.
So, please grab a cup of coffee, cozy up, and let's dive into this list together. By the end, you'll have a clearer picture of which potty training seat suits you and your child, making this journey a whole lot easier. Let's get started!
What is a Potty Training Seat?
A potty training seat is a child-sized seat that fits over a regular toilet seat, acting as a transition tool for toddlers learning to use the bathroom independently. It is designed to be smaller and more comfortable for your child, eliminating the fear of falling into the toilet.
The potty seat helps to familiarize your child with the regular toilet, making the switch easier in due time. Some models even come with handles to help your child feel more secure. Using a potty training seat with potty training underwear can ease your child into toilet training.
Why is it Important to Potty Train your Kids?
You might be wondering, "Why is potty training such a big deal?" Well, let me share some reasons why it's crucial for both you and your little one.
Independence: Potty training empowers your child to become more self-sufficient. It's a step toward them doing things on their own, and that boost in confidence is truly heartwarming to witness.
Hygiene: Diapers can be convenient, but as parents, we all know the not-so-pleasant side of dealing with them. Potty training means fewer diaper changes and a cleaner, more hygienic environment.
Cost Savings: Let's not forget the financial aspect. Diapers can be expensive, and when you successfully potty train your child, you'll notice significant savings in your budget.
Social Skills: It's not just about going to the potty; potty training teaches your child about responsibility and social norms. They learn about privacy and the importance of personal space.
School Readiness: Many daycare centers and preschools require children to be potty trained. So, achieving this milestone prepares them for the next stage of their education.
Emotional Development: Potty training helps children understand and manage their bodily functions. It's a part of growing up and developing emotional intelligence.
Less Stress: For you, it means fewer diaper bags, less laundry, and a smoother transition into the next stage of parenthood.
Best Potty Training Seat
Best Features
The SKYROKU Potty Training Seat with Step Stool Ladder is a great choice for mothers who choose safe, comfortable, and easy for their little ones. This seat is unique because it's designed with safety as its top priority. The sturdy construction, non-slip ladder, and secure handles ensure that your child is safe during this new adventure.
One of the key features that set it apart is the option of replacement cushions available exclusively for SKYROKU toilet training seats. This means you can keep the seat fresh and clean by replacing the cushions every 2 months. Another great feature is the anti-slip pads on the ladder, which provide extra stability and peace of mind.
Pros and Cons
However, like all products, the SKYROKU Potty Training Seat has its pros and cons. Many parents love it for its durability and comfort. The seat is designed in a way that makes it comfortable for both boys and girls. On the downside, some parents have mentioned that it can be a bit tricky to assemble. But once set up, it's quite user-friendly.
Best Features
The Munchkin Arm & Hammer Multistage 3-in-1 Potty is incredibly versatile. It functions as a standalone potty, a potty seat reducer for your regular toilet, and a step stool for reaching the sink or toilet. The Arm & Hammer baking soda disc is a unique feature. It helps to neutralize odors naturally, making the potty training experience a bit more pleasant.
Plus! Cleaning up is a breeze. The removable pot with a splash guard can be easily emptied and cleaned. No fuss, no mess! When using this seat you can ensure your child's safety first! The non-slip base ensures that the potty stays firmly in place, providing extra stability for your little one.
Pros
Versatile Design: The three-in-one design ensures that you'll get plenty of use out of this potty seat, making it an excellent long-term investment.
Easy to Clean: The removable pot and splash guard make clean-up simple and mess-free.
Adjustable Height: This feature allows the potty to grow with your child, saving you money in the long run.
Cons
Size: Some users might find it a bit bulkier compared to simpler potty seats, which could be a concern if space is limited.
Baking Soda Disc Replacement: While the baking soda disc is fantastic, you'll need to replace it periodically, which could add to the ongoing cost.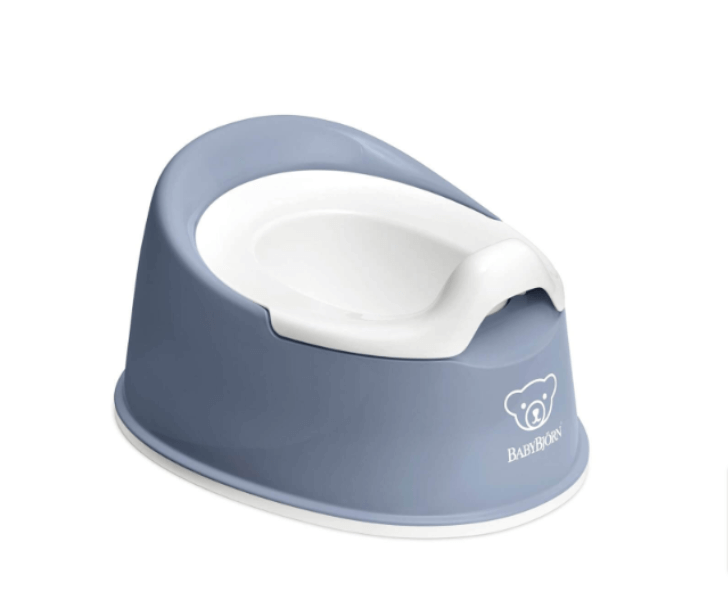 Best Features
One key feature that sets the BabyBjörn Smart Potty apart is its ergonomic design. It's specifically designed to provide optimal comfort for your child while they're learning to use the potty. The smooth edges and rounded shape ensure that your child can sit comfortably without any discomfort or pressure points.
The BabyBjörn Smart Potty is also incredibly easy to clean, which is a huge plus for us busy moms. Its inner potty has a removable insert that allows for quick and hassle-free cleaning. This feature makes it convenient to keep the potty clean and hygienic for your little one.
Pros and Cons
Many parents love the simplicity and durability of the BabyBjörn Smart Potty. Its sturdy construction ensures that it stays in place even during the most active toddlers' movements. Additionally, the compact size makes it easy to transport and store, making it perfect for families on the go.
However, it's essential to consider the cons as well. Some parents have mentioned that the BabyBjörn Smart Potty doesn't come with a splash guard, which could be a slight inconvenience for boys. Additionally, the higher price point may be a deterrent for some budget-conscious parents.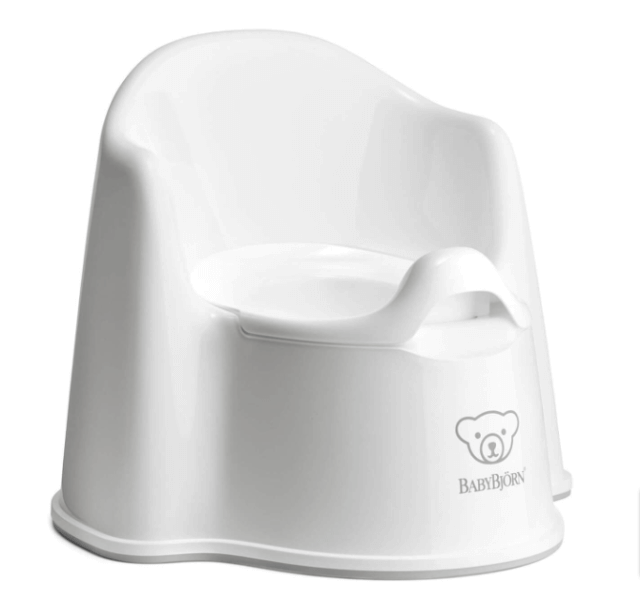 Best Features
The BabyBjörn Potty Chair has an ergonomic shape that's comfortable for your child to sit on. It provides good back support, making potty time more comfortable. The high backrest and armrests offer stability and security, allowing your child to sit confidently on their own.
This potty chair comes with a built-in splashguard to prevent messes and spills. The smooth surface and removable inner potty make cleaning a breeze. Just lift out the inner potty, empty it, and wipe down the chair. Its small footprint and lightweight design make it easy to move around and store when not in use.
Pros
Comfortable Design: The ergonomic design, high backrest, and armrests make it comfortable and secure for your child, helping to ease the potty training process.
Easy Maintenance: Cleaning couldn't be simpler with the removable inner potty and smooth surface.
Sturdy and Durable: BabyBjörn products are known for their quality and durability, ensuring that this potty chair can withstand daily use.
Minimalist Design: Its clean and minimalist design can easily blend into any bathroom or nursery decor.
Cons
Price: BabyBjörn products are often considered premium, so this potty chair may be on the more expensive side.
Not as Versatile: Unlike some other potty seats, this one doesn't have additional functions like converting to a step stool.
Best Features
The Summer Infant My Travel Potty Deluxe is a game-changer for those long car trips or visits to relatives where a regular potty isn't available. It's compact and portable, designed to fit easily into your car or travel bag. The unique feature of this potty is its "Ready to Go" system, which means it can be used anytime, anywhere – even when there's no restroom in sight.
Pros and cons
This potty also comes with disposable bags that come with absorbent pads for easy cleanup, making it an ideal solution for those unexpected "I need to go now" moments. The sealable, leak-proof bags ensure that you can dispose of waste cleanly and hygienically.
However, every product has its downsides, and the Summer Infant My Travel Potty Deluxe is no exception. Some moms have reported that the seat is a bit small and may not be comfortable for larger toddlers. Additionally, you'll need to keep buying disposable bags, which might be a bit of a hassle and an added cost.
Best Features
The BEABA Ergonomic Training Potty is designed with your child's comfort in mind. The ergonomic shape ensures your little one sits comfortably and securely during potty time. The high splash guard is great for preventing spills and messes, helping to keep your bathroom clean.
Cleaning is a breeze with the removable inner bowl, which can be easily taken out, emptied, and cleaned. Let's not forget, that the non-slip base adds an extra layer of safety, preventing the potty from moving around during use.
Pros
Comfortable and Secure: The ergonomic design and high splash guard ensure that your child is comfortable and secure while using this potty.
Easy Maintenance: The removable inner bowl and anti-slip base make cleaning straightforward.
Stylish Aesthetics: If you appreciate modern and stylish baby products, the BEABA potty will fit right in with your decor.
Durability: This potty is built to withstand the rigors of potty training, ensuring it will last through this important phase.
Cons
Price: As with many high-end baby products, the BEABA potty might be on the pricier side compared to more basic options.
Limited Versatility: This potty doesn't have additional functions, such as converting to a step stool.
Best Features
The standout feature of the MAYFAIR 1888SLOW 000 NextStep2 Toilet Seat is the built-in potty training seat. It's designed to make the transition from diapers to the regular toilet easy and seamless. The NextStep2 toilet seat is straightforward to install and fits most standard toilets, making it a convenient choice for busy parents.
The durable wood construction is easy to wipe clean, ensuring a hygienic and hassle-free experience. The potty training seat features a child-friendly, built-in seat that's just the right size for your little one, helping them feel secure and confident.
Pros
Seamless Transition: The built-in potty training seat eliminates the need for a separate potty chair, making the transition from diapers to the regular toilet smooth and less daunting.
Quiet and Convenient: The whisper-close lid ensures that there are no loud, startling noises, creating a more relaxed environment for your child.
Easy Maintenance: The easy-to-clean wood construction is a practical choice for busy parents.
Cons
Cost: This product might be pricier compared to regular toilet seats or standalone potty training seats.
Not Suitable for All Toilets: While it fits most standard toilets, it may not be compatible with some non-standard or oddly shaped toilet bowls.
Summary
When it comes to potty training, there is no one-size-fits-all solution. Each child is unique and may respond differently to various methods and tools. It's essential to keep in mind that patience, consistency, and positive reinforcement are crucial during this process.
Ultimately, the best potty training tool is one that fits your child's needs, your budget, and your lifestyle. Whether it's a standalone potty chair, a portable option, or a toilet seat with built-in training capabilities, finding the right tool can make all the difference in making this milestone easier for both you and your child. Happy potty training! So why not experiment with different types and see what works best for your little one? Who knows, they might surprise you and take to it like a pro!
FAQ
When should I start potty training my child, and how do I know they're ready?
Potty training readiness varies from child to child, but it's typically a good idea to start between 18 to 24 months. Signs of readiness include showing interest in the potty, staying dry for longer periods, and the ability to communicate their needs.
Which type of potty seat is best for my child – a standalone potty or a seat reducer for the regular toilet?
The choice between a standalone potty and a seat reducer depends on your child's comfort and your preference. Some children feel more secure on standalone potties, while others prefer the regular toilet. A seat reducer can be a cost-effective choice as it grows with your child.
My child is afraid of the potty. How can I make the potty training experience less scary for them?
It's common for children to feel anxious about the potty. Try making the experience fun and positive. Let them pick out a potty seat with a design they like, read potty training books together, and celebrate small victories with praise and rewards. Patience and encouragement go a long way in reducing fear.
What should I do if my child regresses after some progress in potty training?
Regression is common and can be triggered by various factors, like changes in routine or stress. Stay calm and supportive. Revisit the basics, establish a routine, and offer reassurance. Avoid punishment and maintain a positive attitude. Most regressions are temporary and part of the learning process.