Hey there, lovely mothers! If you're like me, you understand that the journey through motherhood is a beautiful and rewarding one. However, it can also be a rollercoaster for our skin. As we gracefully age, we deserve products that not only make us look fabulous but also care for our skin like a gentle, comforting hug.
That's why, in this blog post, I'm excited to share with you my top picks for the 7 best Tarte foundations for mature skin. These foundations are like trusted friends that will walk this beauty journey with you, offering not just coverage but also nourishment. These foundations are the answer. Whether you're dealing with fine lines, uneven skin tone, or other signs of mature skin, I've got you covered (literally!).
So, grab a cup of your favorite tea, find a cozy spot, and let's dive into the world of Tarte foundations that will leave you feeling confident and beautiful.
What should Mature Skin Look for in a Foundation?
Mothers with mature skin should look for foundations that offer hydration, have a lightweight texture, and include SPF protection. These foundations not only provide coverage but also cater to the skin's need for moisture and protection from harmful sun exposure. Look for ingredients such as hyaluronic acid or vitamin E which are known for their moisturizing properties.
The foundation should ideally be non-comedogenic and hypoallergenic, to prevent any skin irritation or breakouts. A buildable formula is preferable, as it allows for customizable coverage – light on good skin days and fuller when needed. Lastly, make sure the foundation matches your skin tone perfectly to achieve a natural, youthful glow.
Best Tarte Foundations for Mature Skin
1. Tarte Babassu Foundcealer Skincare Foundation
Best Features
Hybrid Beauty: It combines the benefits of a foundation, concealer, and skincare product all in one. For busy moms, this means fewer steps in your morning routine.
Skincare Infusion: This foundation is not just about coverage; it's about caring for your skin. Infused with skin-loving ingredients like babassu, this foundation hydrates and nourishes, which is especially important for mature skin that tends to be drier.
Buildable Coverage: Whether you prefer a natural look for the school run or need fuller coverage for a special night out, this foundation has you covered. It's buildable, allowing you to tailor your look to your needs.
SPF Protection: Sun protection is crucial, especially as we age. Babassu Foundcealer includes SPF 20, shielding your skin from harmful UV rays, an essential feature that many moms appreciate.
Why you might like or hate it:
Why People Love It:
Flawless Finish: Users rave about the flawless finish this foundation provides. It covers imperfections without feeling heavy or cakey, giving a youthful radiance.
Skin Benefits: Moms love that it's not just makeup but also skincare. It helps improve skin texture over time, making it a true multitasker.
Ease of Use
Cons to Consider:
Price: Some may find it a bit on the pricier side, but many moms see it as an investment in their skin's health and appearance.
Limited Shade Range
How much does it cost:
tarte babassu foundcealer™ skincare foundation SPF 20 13N fair neutral – $39
In summary, the Tarte Babassu Foundcealer Skincare Foundation is one of the best tarte foundations for mature skin moms looking for a foundation that provides excellent coverage, skincare benefits, and SPF protection. While it may have a higher price point and limited shades for some, the overall benefits make it a go-to option for many.
2. Tarte Face Tape Foundation
Best Features
This foundation stands out for its smooth and easily blendable texture, which provides excellent coverage. Whether you're battling blemishes or dealing with dark spots and redness, this foundation has got you covered. In fact, users have reported that it helps to minimize the appearance of pores and makes the skin look smoother.
Why you might like or hate it:
Like:
Despite being a full-coverage foundation, it manages to maintain a natural look, avoiding the cakey appearance that some full-coverage foundations can have. It's also hydrating for a matte foundation, leaving your skin looking bright and luminous rather than dull and flat.
Hate:
The foundation may not work as well for those with dry skin, as it can cling to dry patches.
Also, while the foundation claims to be long-wearing and transfer-proof, some users have found that it doesn't hold up as well on oily skin.
How much does it cost:
It costs $31.33 on Amazon as of the publication of this blog.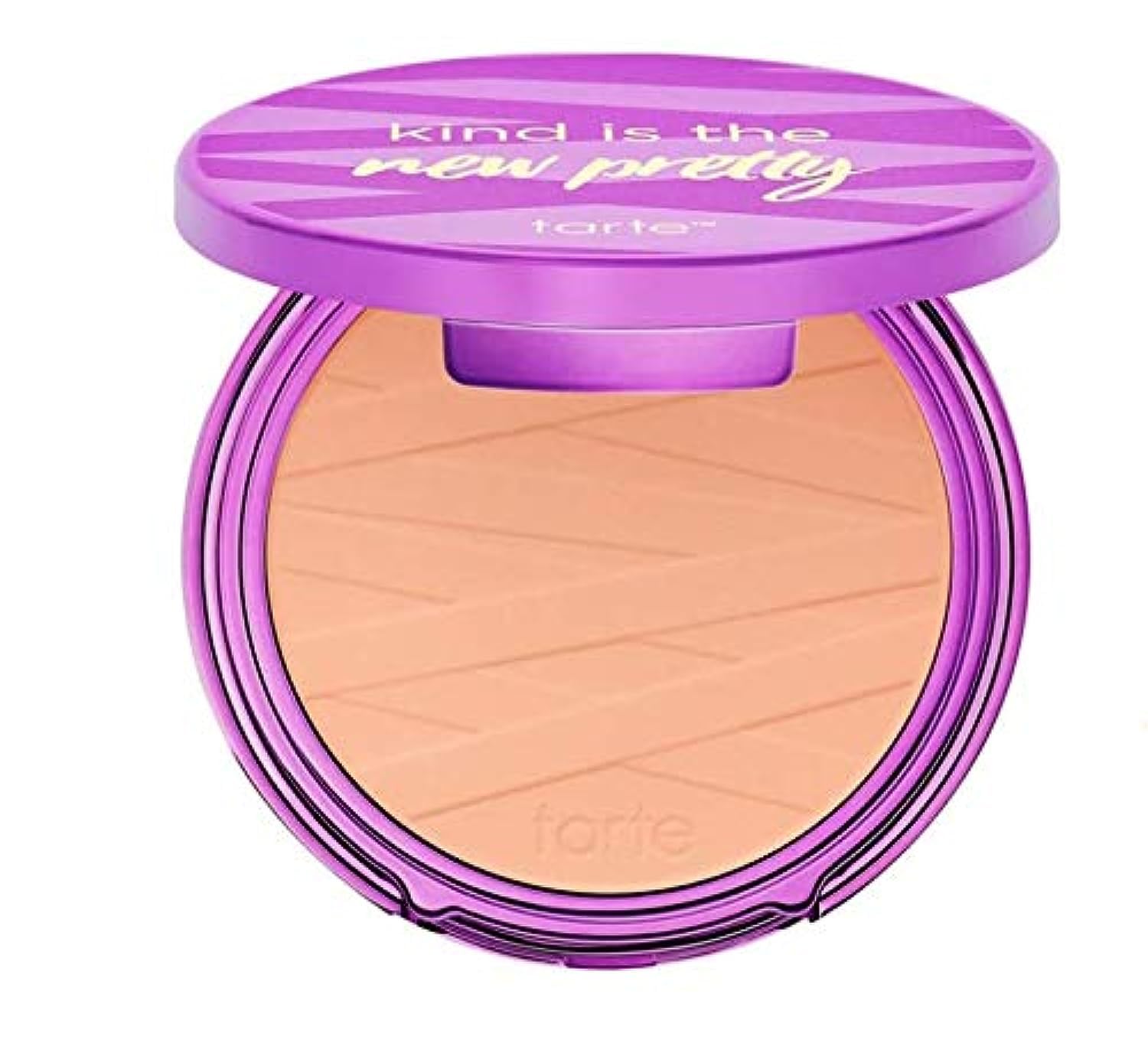 3. Shape Tape Pressed Powder Foundation
As a fellow mom, I know how important it is to find a foundation that can keep up with our busy lives. That's why I want to share with you about the Tarte Shape Tape Pressed Powder Foundation.
Best Features
This pressed powder is a game-changer for those of us who need to cover redness, hyperpigmentation, blemishes, and more, all without looking cakey or dry. A standout feature of this foundation is its light to medium coverage.
You can use it alone or over your favorite liquid foundation for extra coverage. Plus, it includes clay that helps balance skin, making it ideal for those with oily and combination skin.
Concerns to Consider:
But every product has its downsides. While it's fantastic for oil control, if you have dry skin, you might find it a bit too drying. Also, although it provides decent coverage, if you have significant skin concerns, you might need a heavier product
How much does it cost:
The prices of these pressed powders range in between $16 and $48 on Amazon depending on their shade.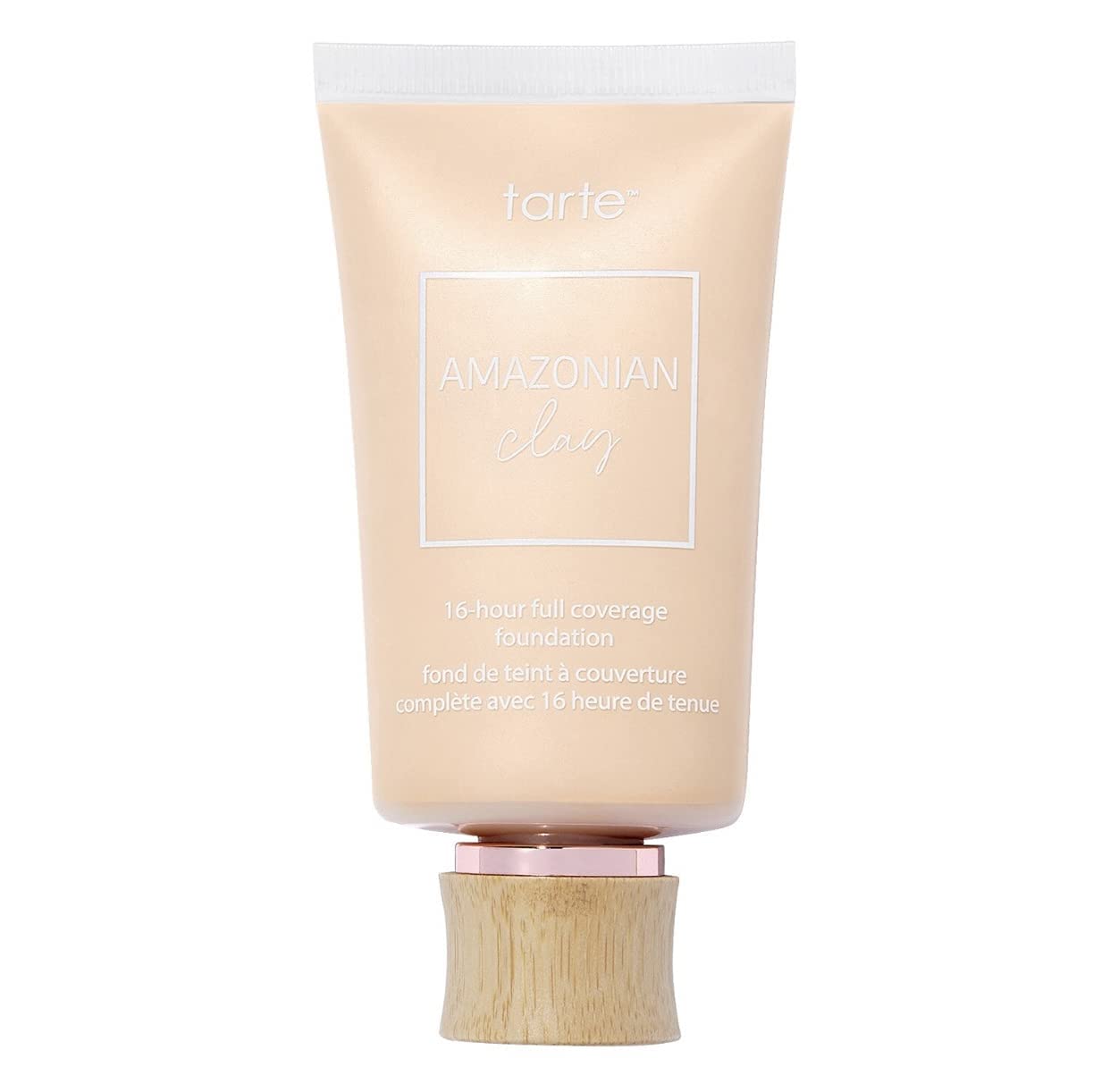 4. Tarte Amazonian Clay
Best Features
Long-Lasting Formula: The Tarte Amazonian Clay Foundation is renowned for its long-wear formula. It stays put throughout the day, which is ideal for moms who have busy schedules and little time for touch-ups.
Matte Finish: This foundation offers a matte finish without looking overly dry. It controls excess oil, making it suitable for mature skin that may still experience occasional shine.
Amazonian Clay Infusion: The star ingredient here is Amazonian clay, known for its oil-absorbing and balancing properties. It helps to minimize the appearance of pores and keep your skin looking fresh.
Natural Ingredients: Many moms appreciate that this foundation is free from harmful ingredients like parabens and phthalates. It's also vegan and cruelty-free, making it a conscious choice for those who care about the environment and animal welfare.
Why People Love It:
All-Day Wear
Skin Benefits: Amazonian clay not only provides a matte finish but also helps control oil and reduces the appearance of pores, leaving skin looking smooth and refreshed.
Variety of Shades
Cons to Consider:
Coverage: While it provides a matte finish and controls oil, some users with very uneven skin tones or blemishes might need an additional concealer for extra coverage.
Matte Finish: While the matte finish is a plus for many, it may not be the best choice if you prefer a more radiant or dewy look.
How much does it cost:
Tarte Amazonian Clay 12-Hour Full Coverage Foundation SPF 15, Fair Beige – $35.99
In conclusion, the Tarte Amazonian Clay Foundation is an excellent choice for moms seeking the best Tarte foundation for mature skin that is a long-lasting foundation with oil-control properties. Its natural ingredients and wide shade range make it a popular choice, although it may require a concealer for extra coverage in certain cases. Overall, it's a dependable option for busy mothers looking for a flawless complexion.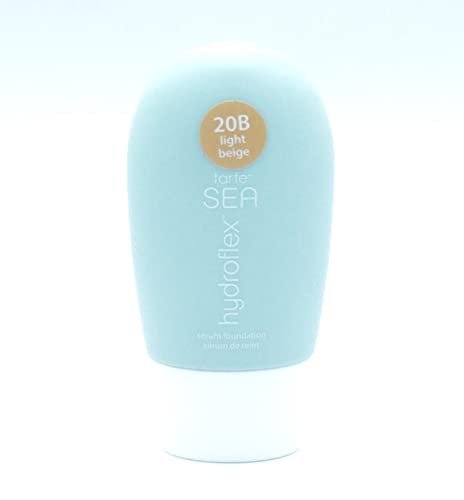 5. Hydroflex Serum Foundation
Best Features
Hydroflex Serum Foundation is a vegan, serum-infused foundation that flexes with your skin to cover imperfections while also hydrating and promoting better bare skin. One of the key features of this foundation is its medium coverage that feels featherlight on the skin. It's like the yoga pants of foundation, designed to move with you throughout your busy day. Plus, it includes eight types of hyaluronic acid, known for its moisturizing and plumping effects.
Why you might like or hate it:
Love:
What I love most about this foundation is its natural finish. It looks and feels like skin, allowing the true you to shine through. It's lightweight, offering light to medium coverage, which makes it ideal for a quick application in the morning school rush.
Hate:
However, every product has its downsides. While its light to medium coverage works for everyday wear, if you have significant skin concerns, you might need a heavier product.
Also, as it aims to hydrate and brighten the skin, if you have oily skin, this foundation might not be the best fit for you.
How much does it cost:
tarte SEA Hydroflex™ Serum Foundation 20B light beige is for $17.43
6. Tarte Clay Stick Foundation
Best Features
Travel-Friendly: The Tarte Clay Stick Foundation is a mom's best friend when it comes to convenience. Its stick format is compact and mess-free, perfect for touch-ups on the go or for busy mornings.
Buildable Coverage: Whether you need light coverage for a natural look or more coverage to conceal imperfections, this foundation can do it all. It's buildable, allowing you to customize your level of coverage.
Amazonian Clay Infusion: Like its liquid counterpart, this stick foundation also features Amazonian clay, helping to absorb excess oil and keep your skin looking matte and smooth.
Cruelty-Free: For moms who prioritize ethical beauty choices, Tarte's commitment to being cruelty-free is a big plus. You can feel good about using this product.
Why People Love It:
Small and travel-sized.
Natural Finish: It provides a natural, matte finish that many moms find flattering for everyday wear.
Blendable: The stick format makes it easy to apply and blend, even if you're not a makeup pro.
Cons to Consider:
Limited Shade Range
If your skin is very dry, you may need to moisturize well before applying, as the matte finish can emphasize dry patches.
How much does it cost:
Clay Stick Foundation Rich Honey is $15.42 on Amazon.
7. Tarte Shape Tape Cloud Cream Coverage
Best Features
Ultra-Lightweight Formula: If there's one thing busy moms appreciate, it's a foundation that feels weightless on the skin.
Full Coverage: It offers full coverage, helping to conceal blemishes, dark spots, and redness, which can be common concerns for mature skin.
Hydrating: Hydration is key for mature skin, and this foundation doesn't disappoint. It contains hyaluronic acid to lock in moisture, leaving your skin looking plump and radiant.
Vegan and Cruelty-Free
Why People Love It:
Comfortable Wear: Moms appreciate that they can achieve a flawless look without feeling like they're wearing heavy makeup, making it perfect for everyday wear.
Anti-Aging Benefits: The hydrating properties of hyaluronic acid help to reduce the appearance of fine lines, making this foundation a go-to for mature skin.
Long-Lasting: It has excellent staying power, so you don't have to worry about constant touch-ups during the day.
Cons to Consider:
Shade Range
Price: It's in the mid to high price range for foundations, which may be a consideration for some budget-conscious moms.
How much does it cost:
Tarte Shape Tape Cloud Cream Coverage 30ml (29N Light Medium Neutral) is $29 on Amazon.
In conclusion, the Tarte Shape Tape Cloud Cream Coverage is another excellent choice from the list of the best Tarte foundation for mature skin for moms seeking a lightweight foundation with full coverage and hydrating properties. Its comfortable wear and anti-aging benefits make it a top pick for mature skin, even though the price point may be a concern for some. For a weightless yet flawless look, this foundation delivers.
How to Choose the Best Foundation/Concealer Shade for You?
Choosing the best concealer shade and foundation shade is crucial to achieving a natural-looking finish.
Here are some steps to guide you:
Identify Your Undertone:
The first step is to identify your skin's undertone, which can be cool (pink, red, or bluish), warm (yellow, peachy, golden), or neutral (a mix of warm and cool). One common method is to look at the veins on your wrist – if they look green, you likely have a warm undertone; if they look blue or purple, you probably have a cool undertone; and if it's hard to tell, you're likely neutral.
Test Shades:
When choosing a foundation, test a few shades on your jawline (not your hand as the skin color can vary). The shade that disappears into your skin without much blending is your match. Do this in natural light for the most accurate result.
Choose Concealer:
As for concealer, if you want to cover dark circles or blemishes, choose a shade that's no more than one or two shades lighter than your natural skin tone or foundation. If you're highlighting, choose a shade two shades lighter than your foundation.
Test Before Buying:
Whenever possible, try the foundation and concealer on your skin and give it some time. Some products can oxidize and look darker after a few minutes.
Remember, the perfect shade for you may change between different brands or even different products within the same brand. Don't be afraid to experiment and find what best suits your skin.
Conclusion
In short, that was the 7 best Tarte foundation for mature skin. There are many products on the market that claim to be good for mature skin. But, as a busy mom, you want something that will suit your complexion and lifestyle perfectly. Tarte offers some great foundations for mature skin with features like lightweight formulas, buildable coverage, Amazonian clay infusion, and cruelty-free ingredients. With these in mind, you can find the perfect foundation to fit your needs and give you that natural, flawless look.
With this knowledge in mind, you can find the perfect Tarte foundation for mature skin and rock that gorgeous, confident look!
FAQ
Is it essential for mature skin to use specific foundations?
Yes, it's beneficial to choose foundations designed for mature skin. These foundations often contain hydrating ingredients and provide anti-aging benefits, helping to address the unique concerns of mature skin, such as fine lines, uneven texture, and loss of elasticity.
What's the difference between a matte and a dewy finish foundation for mature skin?
Matte finish foundations are great for controlling excess oil and minimizing the appearance of pores. On the other hand, dewy finish foundations provide a more radiant, glowing look. The choice between the two depends on your personal preference and your skin's needs.
Can I still use a foundation with SPF if I already apply sunscreen?
Absolutely! Using a foundation with SPF can provide an additional layer of protection against UV rays. However, it's essential to apply a dedicated sunscreen first and then your foundation for maximum sun protection.
How can I find the right shade of Tarte foundation for my skin tone?
To find your perfect shade, it's best to visit a Tarte retailer or counter to get professionally matched. If that's not possible, Tarte's website often provides helpful shade descriptions and comparison charts to assist you in selecting the closest match based on your undertone and complexion.