Hey there, fellow adventurous moms! If you're anything like me, you understand the joys and challenges of traveling with a toddler in tow. The excitement of exploring new places, coupled with the need for practicality and convenience, can be a delicate balancing act. That's where the perfect travel stroller comes into play.
In this post, I'll be your trusty guide, sharing insights on the 7 best travel strollers for toddlers. Whether you're planning a weekend getaway or a grand international adventure, I've got you covered. We'll delve into the must-have features, pros, and cons of each stroller, ensuring you make the best choice for your little one's comfort and peace of mind.
We'll explore strollers that are compact, lightweight, and designed with both style and functionality in mind. These top 7 travel strollers for toddlers are about to make your life so much easier. Say goodbye to bulky, inconvenient gear and hello to hassle-free adventures.
What are Strollers?
Strollers, often referred to as prams, pushchairs, or buggies depending on the region, are essential baby gear designed to transport infants or young children.
What Best Characteristics to Look For in a Stroller?
Toddler strollers are specifically engineered with the needs and comfort of older infants or toddlers in mind.
They typically come equipped with adjustable seating, allowing your little one to sit upright, recline for a nap, or sometimes even lay flat.
Additionally, these strollers often feature safety enhancements such as a five-point safety harness, lockable wheels, and a canopy to shield your child from the elements.
Convenience-focused features might include easy folding mechanisms for portability, storage baskets for essentials, and cup holders or snack trays.
In essence, toddler strollers are a convenient and safe way to transport your child when walking, shopping, or traveling.
Best Travel Strollers for Toddlers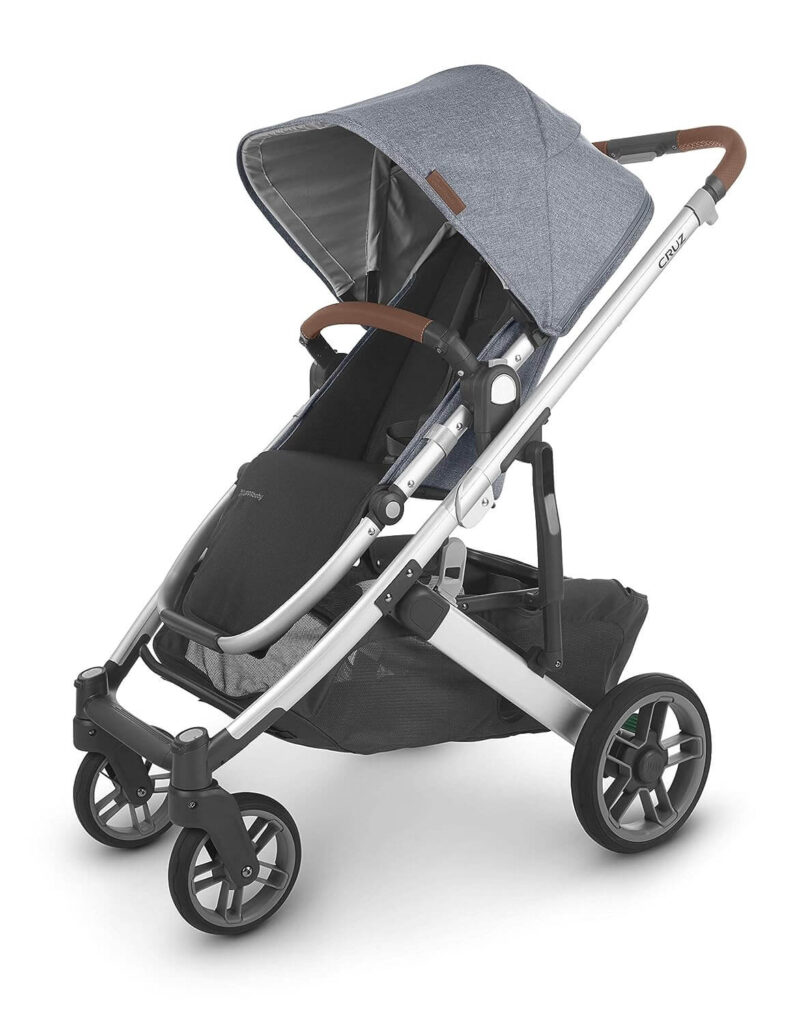 Key Features
The Cruz V2 boasts a sleek and modern design that turns heads wherever you go. Its stylish aesthetics are perfect for fashion-forward moms.
This stroller glides effortlessly, whether you're navigating busy city streets or uneven terrain. The front and rear-wheel suspension ensures a bump-free ride for your little one.
The reversible toddler seat allows your child to face you or the world, depending on their mood. It also reclines flat for naptime convenience.
With a generously sized basket beneath the seat, you can stow away your essentials and shopping finds with ease. No more juggling bags while pushing the stroller!
Why Moms Love It:
Versatile: The Cruz V2 is versatile enough for both city life and light off-road adventures, making it a great all-rounder.
Compact Fold: It folds compactly, fitting into most car trunks without a struggle, leaving more space for other necessities.
Easy to Clean: The fabric is removable and machine-washable, which is a lifesaver for moms dealing with inevitable spills and messes.
Why Some May Hesitate:
Price Tag: Quality comes at a cost, and the Uppababy Cruz V2 is on the higher end of the price spectrum.
Size and Weight: While it's not excessively heavy, some moms might find it a bit bulkier compared to ultralight strollers.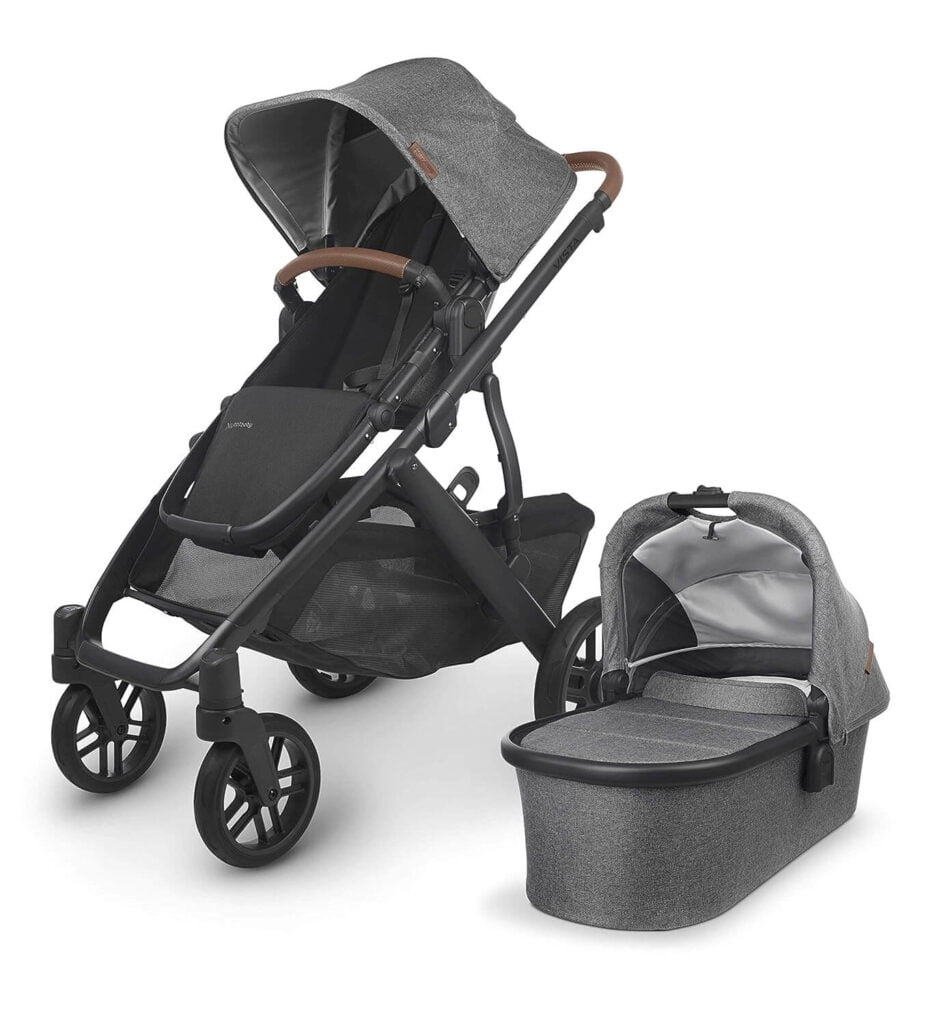 One stroller that has made my travel experiences with my toddler a breeze is the Uppababy Vista V2. This stroller is an absolute game-changer and let me tell you why.
Key Features
Firstly, it's incredibly versatile. The Uppababy Vista V2 can be transformed from a single to a double stroller, accommodating your growing family.
It also comes with a bassinet, which is perfect for newborns. This stroller is designed to offer a smooth ride, thanks to its spring-loaded suspension and durable rubber tires.
Plus, it has a large, easy-access storage basket that can hold up to 30 lbs – a lifesaver for all those baby essentials we mothers know we need!
Why Moms Love It:
Among its many advantages, the Uppababy Vista V2 stands out for its adaptability, comfortable seating, sturdy build, and easy maneuverability.
It also boasts an extendable canopy with UPF 50+ protection, keeping your little one safe from harmful sun rays.
Why Some May Hesitate:
However, perfection is elusive and the Uppababy Vista V2 is no exception. Some of the drawbacks include its size, making it a bit bulky to handle in crowded areas or narrow paths. Also, it's on the pricier side when compared to other models.
But considering its features and quality, I personally feel the investment is worth every penny.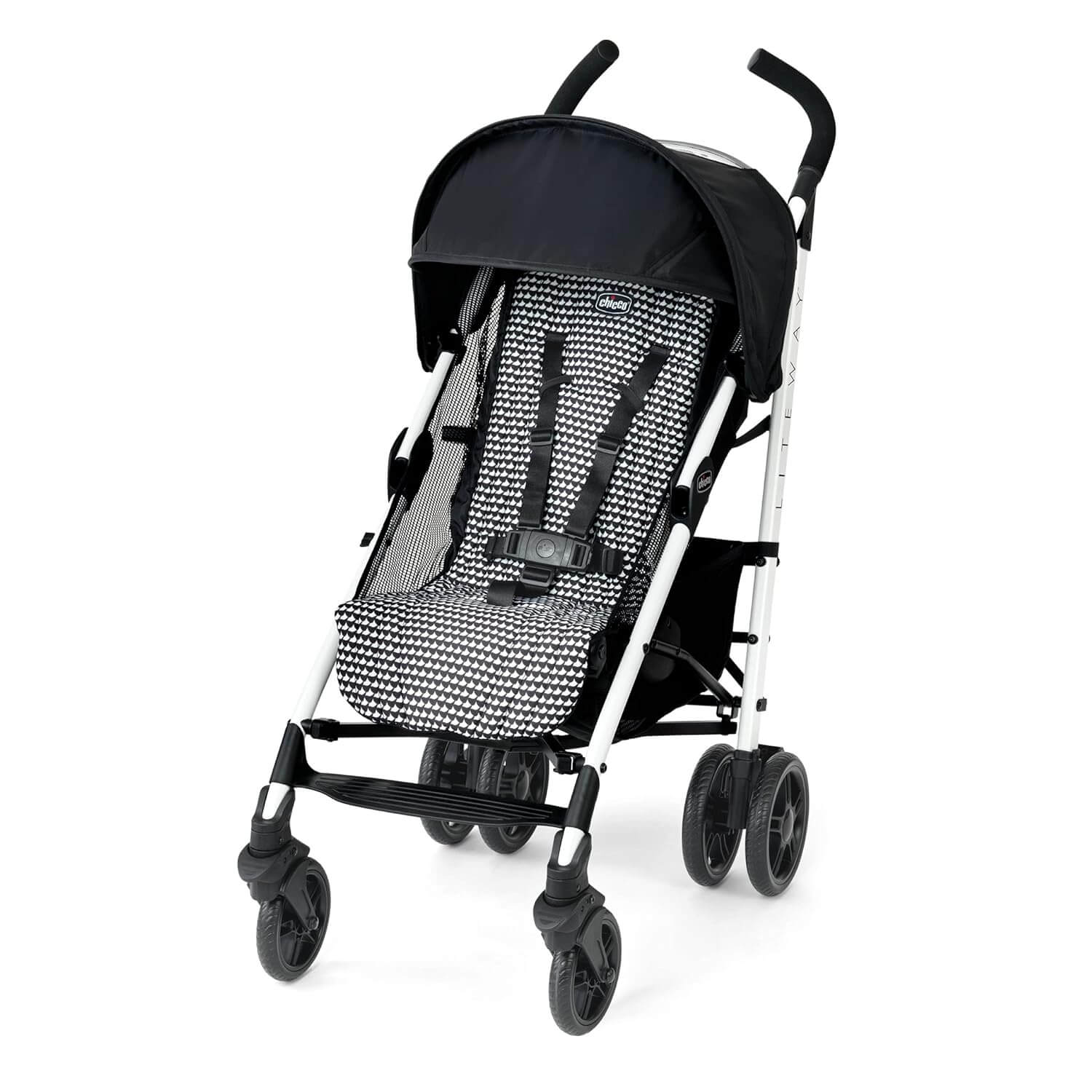 Key Features
Ultra-Compact Fold: The Liteway lives up to its name with an incredibly compact fold. It's a breeze to fold and store in tight spaces or the trunk of your car.
Adjustable Backrest: Your toddler's comfort is a priority, and the adjustable backrest lets you find the perfect position for them to relax or take a nap.
Five-Point Harness: Safety first! The secure five-point harness keeps your little one snug and secure during your outings.
Canopy with Sun Visor: Shield your child from the elements with the extendable canopy that provides ample coverage from the sun or light rain.
Why Moms Love It:
Portability: The Liteway's featherweight design makes it a breeze to carry and navigate through crowded spaces.
Affordable.
Easy to Clean.
Why Some May Hesitate:
Smaller Wheels: While the Liteway is nimble, its smaller wheels may not handle rough terrain as well as larger, all-terrain strollers.
Limited Storage.
Key Features
The Graco Modes Pramette Stroller is like a Swiss army knife of strollers – it's 3 strollers in 1! It can serve as an Infant Car Seat Carrier, Infant Pramette, and Toddler Stroller, making it a versatile choice that grows with your child.
This stroller offers comfort and convenience from babyhood to toddler years, and trust me, this longevity is a blessing.
Why Moms Love It:
Flexible.
The toddler seat converts to a true pramette, ensuring your little one is always comfortable, no matter their age or size.
Why Some May Hesitate:
This stroller seems a bit bulky, especially when used in crowded areas.
Also, be aware that the infant car seat is sold separately, which may add to the overall cost.
But, all things considered, the Graco Modes Pramette Stroller is a reliable, versatile, and convenient option that I would highly recommend to any mom out there.
After all, we deserve products that make our lives easier and this stroller does just that!
Key Features
Ultralight Design: Weighing in at just 13 pounds, the 3Dlite is a breeze to carry, lift, and maneuver, making it perfect for busy moms on the go.
Compact Fold: The stroller folds compactly and features a convenient carry strap, making it a cinch to transport and store.
Durable Frame: Despite its lightweight design, this stroller boasts a sturdy aluminum frame that can withstand the wear and tear of everyday use.
Multi-Position Recline: Keep your little one comfy with a multi-position recline, allowing them to sit up for adventures or take a nap on the go.
Why Moms Love It:
Affordable.
Ample Storage: It comes with a spacious storage basket under the seat, perfect for stowing away all your essentials during outings.
Sun Protection: The oversized canopy provides great sun protection, ensuring your toddler stays cool and shaded.
Why Some May Hesitate:
No Reversible Seat: Unlike some other strollers, the 3Dlite doesn't have a reversible seat, so your child can't face you.
Not Ideal for Rough Terrain: While it handles smooth city streets like a champ, it's less suitable for off-road adventures.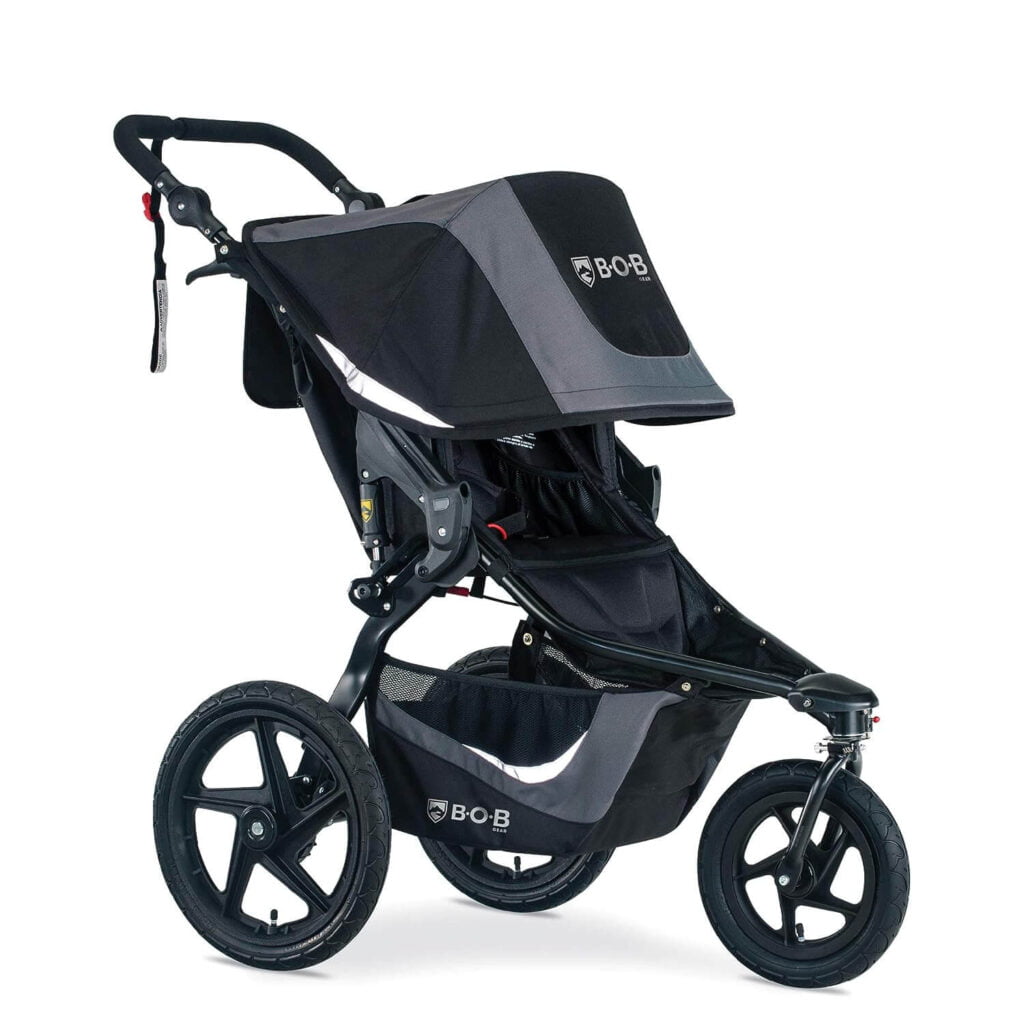 Key Features
The BOB Gear Revolution Flex 3.0 is designed with a mountain bike-style suspension system, which makes every bump in the terrain disappear, ensuring a smooth ride for your little one.
This feature is a godsend when you're out running, hiking, or even just navigating uneven city streets.
Why Moms Love It:
Adjustable: The handlebar can be adjusted to nine different positions, perfect for finding the most comfortable pushing height. The seat can also be adjusted from almost flat to fully upright, allowing your toddler to nap comfortably or sit up and take in the sights.
UV Protection: it includes an extended UPF canopy for UV protection, a must-have for sunny days out.
Why Some May Hesitate:
A heavy-duty stroller: This means it can be a bit bulky and might not be the best choice if you're frequently navigating crowded areas or tight spaces.
Also, while it offers several additional features, they are sold separately, which could add to the overall cost.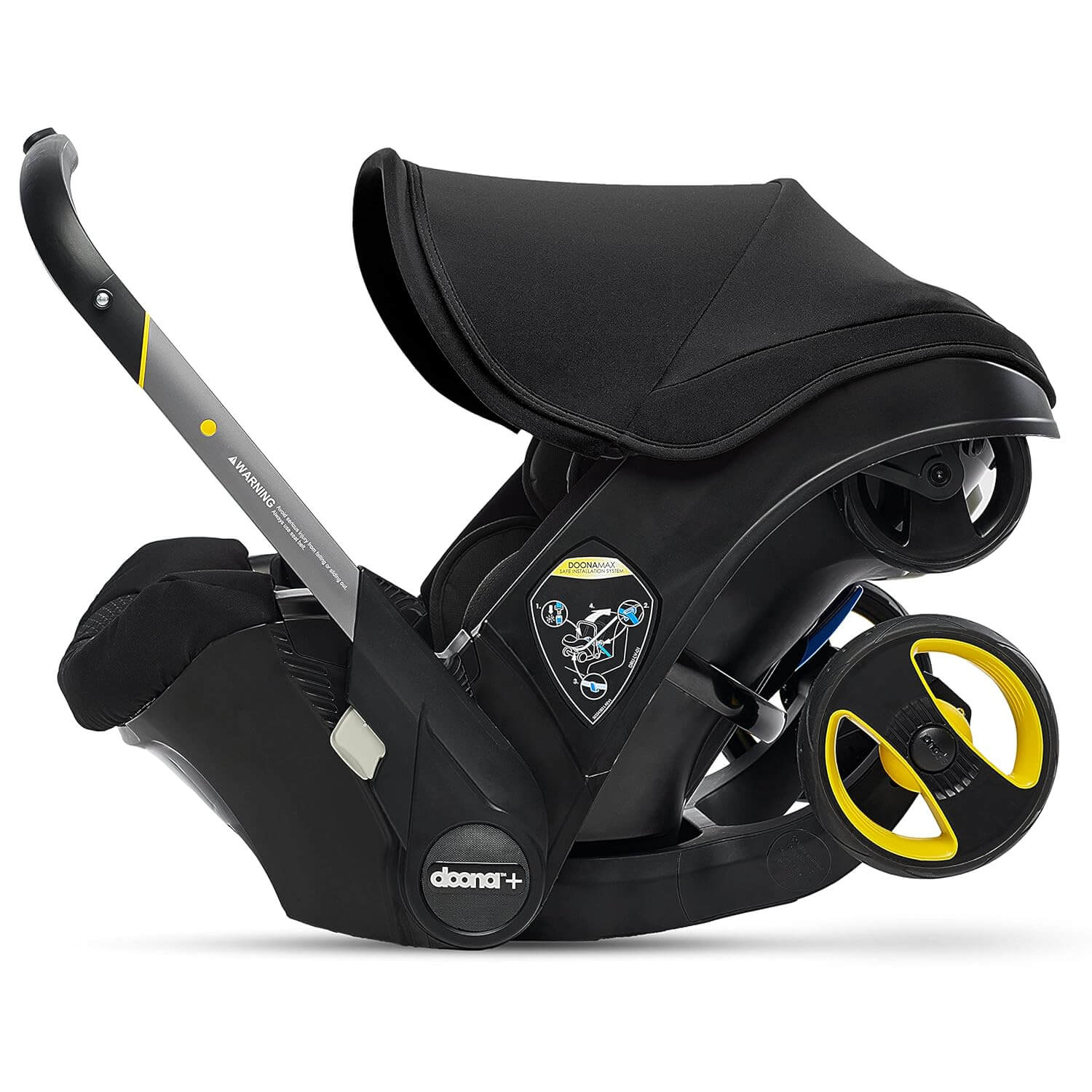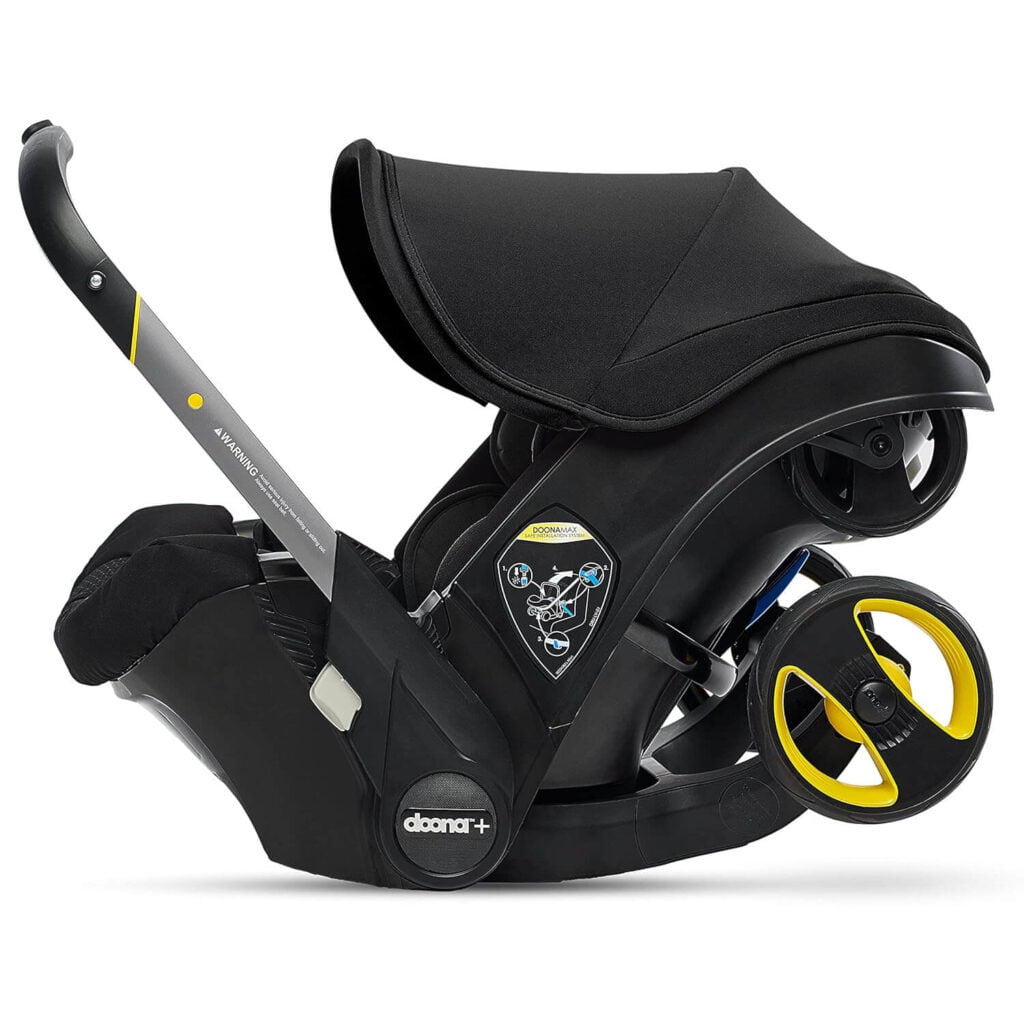 Key Features
Car Seat and Stroller in One: The Doona is not just a car seat; it's also a stroller! With a simple maneuver, you can transform it from a car seat to a stroller without any additional parts or attachments.
Integrated Latch Base: Installing the Doona is a breeze, thanks to its latch base. It clicks securely into your vehicle's latch system, providing a stable and safe ride for your baby.
Highest Safety Standards: Doona prioritizes safety with its side-impact protection, anti-rebound bar, and three-layer side-impact protection. It's also FAA-approved for air travel.
Compact Design: The Doona's compact size allows for easy navigation through narrow spaces and tight parking spots.
Why Moms Love It:
Travel Simplicity: The Doona's seamless transition from car seat to stroller means you can move your baby without waking them, making it perfect for on-the-go parents.
Space-Saving
Made out of premium materials
Why Some May Hesitate:
Price: The Doona is an investment, and its price reflects the convenience and safety features it offers.
Limited Stroller Features: While it excels as a car seat, the Doona may not have all the features of dedicated strollers, like adjustable handlebars or extensive storage.
Summary
In this blog, we've reviewed seven top strollers, each offering unique features catering to the different needs of mothers and their babies. Each stroller has its pros and cons, and the choice depends on the specific needs and lifestyle of the parent and child. Whether it's an affordable option for everyday use or a high-end stroller with all the bells and whistles, there is something for every mom and baby.
As mothers, we deserve products that make our lives easier, and these top strollers certainly do just that. Consider your lifestyle, budget, and specific needs when choosing the perfect stroller for you and your little one. Happy strolling!
FAQ
Are travel strollers suitable for everyday use, or do I need a separate stroller for daily activities?
Travel strollers can serve as both travel companions and everyday strollers, depending on your needs. Many of the best travel strollers, like the Chicco Liteway or Summer 3Dlite, are versatile enough for everyday use.
However, consider your specific lifestyle and terrain; some families opt for a more robust stroller for everyday activities, while others find a travel stroller to be sufficient for all their needs.
How do I ensure my toddler's safety while using a travel stroller, especially during air travel?
Safety is paramount when using a travel stroller. Ensure that your chosen stroller complies with safety standards and comes equipped with features like a secure harness and sturdy frame.
When flying, make sure your stroller is FAA-approved for in-cabin use or gate-checking.
Can I use a travel stroller for newborns, or do I need a separate infant car seat and stroller system?
Many travel strollers are designed to accommodate infants with adjustable recline positions and compatible infant car seat adapters.
However, not all travel strollers are suitable for newborns. If you plan to use a travel stroller from birth, look for models that offer a fully flat recline or are compatible with infant car seats.
What's the best way to maintain and clean a travel stroller to ensure it stays in good condition?
Proper maintenance and cleaning are essential for prolonging the life of your travel stroller. Regularly check for loose screws or parts and address any issues promptly.
Most strollers have removable, machine-washable fabric covers that should be cleaned according to the manufacturer's instructions.
Wipe down the frame and wheels regularly to remove dirt and debris. Avoid using harsh chemicals that may damage the materials.
Storing your stroller in a dry, clean area when not in use will help keep it in excellent condition.