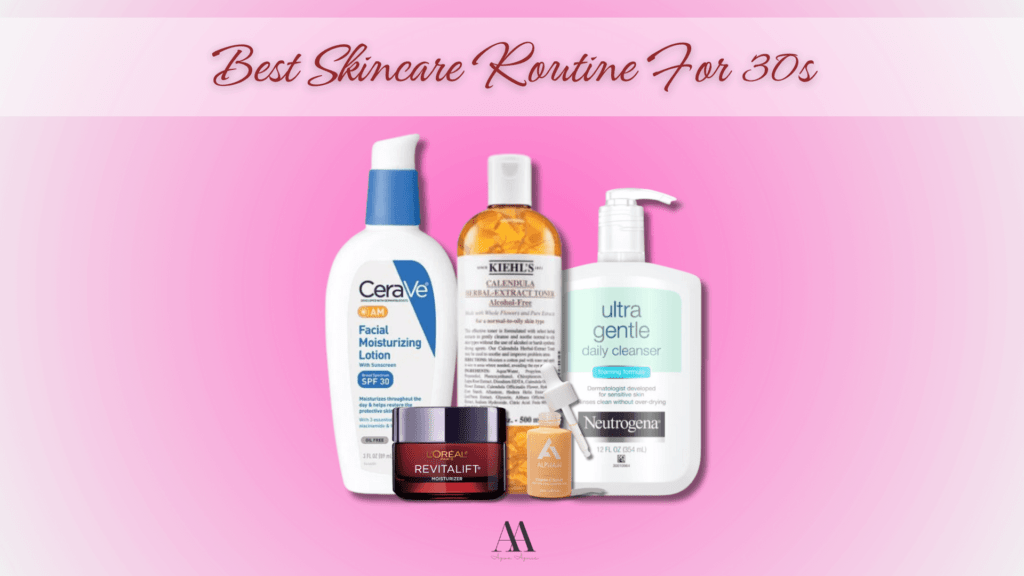 Hey there, busy moms in your 30s – I see you, juggling a thousand things every day, from career to family, and everything in between. I've been right there with you, and I know how challenging it can be to prioritize self-care, especially when it comes to skincare.
In this fast-paced world, it's easy to let self-care slip through the cracks. But fear not, because I've discovered a skincare routine tailor-made for our busy lives. It's like a secret weapon in the quest for that elusive "me-time."
Picture this: a few minutes each day dedicated to nourishing your skin, helping you look and feel your absolute best. Who wouldn't want that? I'm here to share with you the ultimate skincare routine that not only fits seamlessly into your schedule but also delivers remarkable results.
So, if you're ready to reclaim your glow and boost your confidence without sacrificing precious time, keep reading. I'm about to spill the beans on the best skincare routine for 30s busy moms. Let's embark on this journey together, because you deserve to shine!
Why do Busy Moms Need their Own Skin Routine?
As busy moms, our lives are busier than ever. We're constantly on the go and often don't find enough time to take care of our skin. But here's why it matters: With age comes a decrease in collagen production, which leads to wrinkles and weak elasticity. This means that the skin starts losing its youthful radiance faster if we don't take steps to look after it.
It's true that everyone's skin is different, but busy moms in their 30s share certain commonalities that require specialized attention. That's why a tailored skincare routine makes the most sense for our lifestyle and unique needs.
Best Skincare Routine For 30s
Without further ado, here are skin care tips and tricks for the best skincare routine that have been working out for me as a busy mother:
1. Keep it Simple
The first step to maintaining the best skincare routine for 30s is to keep it simple. Don't overcomplicate things and choose products that are gentle on your skin.
Start by using a cleanser, toner, and moisturizer. Use products that are specifically designed for your skin type.
Avoid products that contain harsh chemicals, fragrances, or alcohol. When you're short on time, multi-tasking products like a tinted moisturizer or a BB cream can also make your routine more manageable.
2. Hydrate, hydrate, hydrate!
Hydration is essential to maintain healthy, young-looking skin. Drinking enough water is fundamental, but it's also important to incorporate hydrating products into your skincare routine.
Use a hydrating serum or moisturizer that contains hyaluronic acid, which helps to hold water in your skin, giving it a plump and youthful appearance. Using a facial mist throughout the day can also help to keep your skin hydrated.
3. Don't forget the Sunscreen
This step is the step that like to emphasize the most in this best skincare routine for 30s because sun damage is one of the leading causes of wrinkles, fine lines, and hyperpigmentation. A good sunscreen is essential to protect your skin from the sun's harmful rays.
Choose a broad-spectrum sunscreen with an SPF of 30 or higher and apply it every day, even when it's cloudy. Look for products that are lightweight and non-greasy so that they can easily be incorporated into your daily routine.
4. Get enough Sleep
Getting enough sleep is crucial for maintaining healthy skin. When you're sleep-deprived, your body produces more cortisol, which can break down collagen and cause inflammation.
Try to get at least 7-8 hours of sleep every night to keep your skin looking fresh and glowing. If you're struggling to sleep, consider incorporating relaxation techniques like meditation or yoga into your routine.
5. Take Time for Yourself
Finally, don't forget to take time for yourself. As a busy mom, it's easy to put everyone else's needs before your own, but it's essential to make time for self-care. Incorporating skincare into your routine is a perfect excuse to take a few minutes for yourself.
Make your routine a relaxing, enjoyable experience by incorporating aromatherapy, listening to soothing music, or indulging in a face mask.
Recommended Products for 30s
Cleanser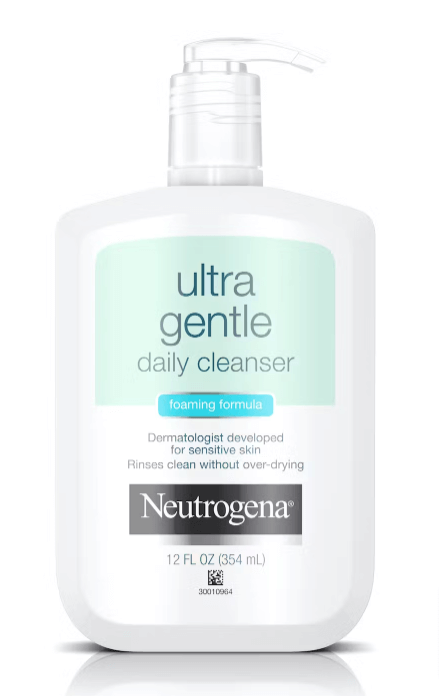 As a fellow mom, I know how crucial it is to have a reliable and gentle cleanser in your skincare arsenal. Neutrogena's Ultra Gentle Daily Cleanser has been a game-changer in my busy life.
Key Features
Hypoallergenic Formula: One of the standout features of this cleanser is its hypoallergenic formula. It's designed with sensitive skin in mind, ensuring it won't leave your face feeling irritated or dry. This is a big win for me, especially during those hectic days.
Fragrance-Free: No overpowering scents here! The cleanser is fragrance-free, making it perfect for moms who prefer a simple, clean skincare routine. Plus, it won't clash with your favorite perfume.
Effective Cleansing: Despite its gentle nature, this cleanser means business when it comes to removing makeup, dirt, and impurities. It leaves my skin feeling fresh and clean without any tightness.
Pros and Cons
Pros:
Gentle for Daily Use: As the name suggests, it's perfect for daily use, and that's what makes it a staple in my skincare routine. No need to worry about over-cleansing; it strikes that perfect balance.
Budget-Friendly: We all have budgets to consider, and this cleanser won't break the bank. It's affordable without compromising on quality.
Cons:
Not Ideal for Heavy Makeup: While it does a fantastic job with everyday makeup, if you wear heavy, waterproof makeup, you might need an additional makeup remover before using this cleanser.
Lacks Anti-Aging Ingredients: If you're looking for a cleanser that also fights signs of aging, you might want to explore other options.
Toner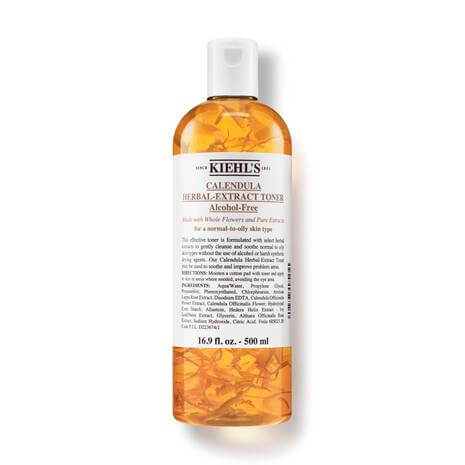 Key Features
In the midst of motherhood's daily whirlwind, Kiehl's Calendula Herbal Extract Alcohol-Free Toner has become my little secret for maintaining a balanced, refreshed complexion. It's a moment of calm and self-care that every busy mom deserves.
Calendula Powerhouse: This toner is infused with Calendula petals, a natural wonder known for its calming and skin-soothing properties. Perfect for those moments when life's stressors start to show on your skin.
Alcohol-Free Formula: Say goodbye to that stinging sensation many toners can bring. Kiehl's toner is alcohol-free, so it won't strip your skin of moisture or leave it feeling tight.
Gentle Exfoliation: It contains Allantoin, which helps to gently exfoliate your skin, leaving it smoother and more radiant.
Pros and Cons
Pros:
Balancing Act: If you're dealing with combination skin like mine, you'll appreciate how this toner helps balance oiliness in the T-zone while keeping dry patches hydrated.
Soothing Sensation: After a long day of managing family and work, applying this toner feels like a spa-like retreat. It's a soothing ritual that signals the start of my nighttime self-care routine.
Large Bottle: The 8.4 oz. size is generous, ensuring that it lasts for months, even with daily use. One less thing to add to your shopping list, right?
Cons:
Pricey: Quality comes at a price, and this toner is on the higher end of the spectrum. However, I've found it to be worth the investment for the results it delivers.
Not Travel-Friendly: The size of the bottle may make it less than ideal for travel. You might want to consider a smaller container for trips.
Serums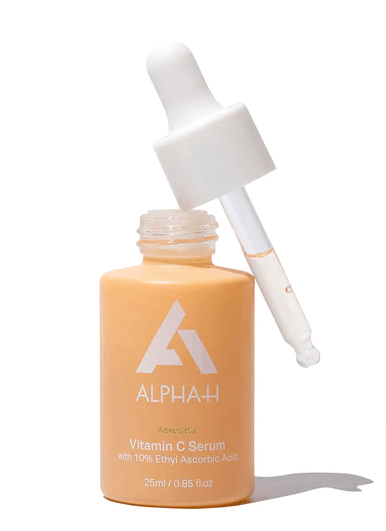 As moms, we deserve skincare that not only works but also makes us feel confident and refreshed. Alpha-H Vitamin C Serum has been that for me—a trusted ally in the quest for a radiant, youthful complexion amidst the chaos of motherhood. Try it out and embrace the glow; you deserve it!
Key Features
High Potency Vitamin C: Alpha-H doesn't mess around when it comes to Vitamin C. This serum boasts a high concentration, working wonders to brighten your complexion and reduce the appearance of fine lines.
Antioxidant Powerhouse: Vitamin C is a mighty antioxidant, and this serum is like a shield for your skin, protecting it from the daily onslaught of environmental stressors.
Hydrating Hyaluronic Acid: To balance the brightening effects, the serum includes Hyaluronic Acid, which ensures your skin stays plump and hydrated.
Pros and Cons
Pros
Glow Getter: If you're like me and sometimes struggle with the "tired mom" look, this serum is a game-changer. It adds a youthful glow to your skin, making you look refreshed even on those sleep-deprived mornings.
Visible Results: The effects are visible, and that's what makes it so satisfying. Over time, you'll notice improved skin tone, reduced pigmentation, and an overall more even complexion.
Easy Integration: It's super easy to incorporate into your routine. Simply apply a few drops after cleansing in the morning, and you're good to go.
Cons
Sensitivity: While it's suitable for most skin types, some may experience mild sensitivity when using high-potency Vitamin C. Start with a patch test if you have sensitive skin.
Price Tag: Quality skincare often comes with a price, and this serum is no exception. However, a little goes a long way, so the investment is worth it.
Moisturizer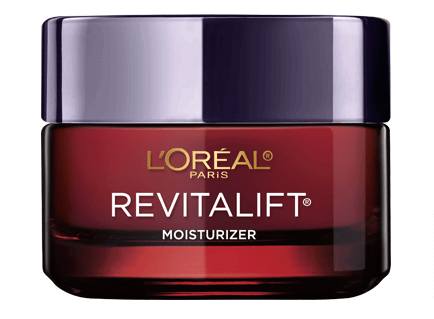 As mothers, our schedules can be packed, but our skincare routine doesn't have to be. L'OREAL Paris RevitaLift Triple Power Deep-Acting Moisturizer is proof that effective skincare doesn't have to be complicated. It's an essential step in my daily routine, ensuring my skin stays hydrated and youthful, even in the chaos of motherhood.
Key Features
Triple Action Formula: This moisturizer boasts a triple-action formula that tackles wrinkles, firms the skin, and provides 24-hour hydration. It's like a multitasking mom in a jar!
Pro-Retinol: It contains Pro-Retinol, a powerful ingredient known for its anti-aging properties. This means it not only keeps your skin hydrated but also fights those pesky fine lines and wrinkles.
Lightweight Texture: Despite its potent formula, it feels light on the skin, making it perfect for everyday wear, even under makeup.
Pros and Cons
Pros:
Hydration Hero: As busy moms, we often forget to drink enough water. This moisturizer helps compensate for that oversight, leaving your skin feeling plump and refreshed.
Visible Results: Over time, you'll notice improved skin texture and a reduction in fine lines. It's like a little fountain of youth in a jar.
Affordable Luxury: It provides the benefits of high-end skincare without the hefty price tag, making it accessible for moms on a budget.
Cons:
Scented Formula: It has a mild scent, which might not be everyone's cup of tea. If you prefer unscented products, this might not be your top pick.
Not Ideal for Sensitive Skin: The potent ingredients may not be suitable for those with very sensitive skin. A patch test is advisable for anyone with skin sensitivity.
Sunscreen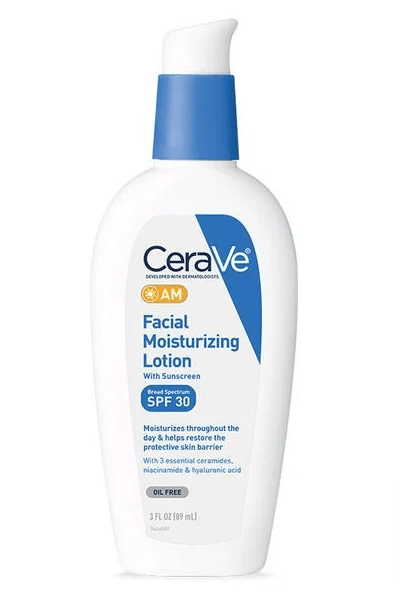 As moms, our days are filled with adventures under the sun, whether it's at the park, the soccer field, or simply running errands. The CeraVe AM Facial Moisturizing Lotion with Sunscreen SPF 30 ensures we face those adventures with confidence, knowing our skin is protected and well-hydrated. It's the perfect blend of self-care and practicality, just like us moms. Embrace the sun, but do it wisely!
Key Features
Broad Spectrum SPF 30: Sun protection is non-negotiable, and this moisturizer doesn't disappoint. It offers broad-spectrum SPF 30, shielding your skin from harmful UV rays that can lead to premature aging.
Ceramides and Hyaluronic Acid: The formula is enriched with ceramides and hyaluronic acid, which work together to lock in moisture and keep your skin hydrated throughout the day.
Non-Greasy Texture: It's wonderfully lightweight and non-greasy, making it an ideal base for makeup and perfect for daily wear.
Pros and cons
Pros:
All-in-One Solution: As busy moms, we often seek products that simplify our routines. This lotion combines sun protection and hydration, streamlining your morning regimen.
Dermatologist Recommended: CeraVe is a brand often recommended by dermatologists, so you can trust that it's formulated with your skin's health in mind.
Suitable for Sensitive Skin: If you or your little ones have sensitive skin, this lotion is a gentle choice. It's fragrance-free and hypoallergenic.
Cons:
May Need Reapplication: While SPF 30 is great, remember that sunscreen should be reapplied every few hours when exposed to the sun for extended periods.
Limited Anti-Aging Ingredients: If you're specifically looking for an anti-aging moisturizer, you might want to supplement it with additional products.
Conclusion
Taking care of your skin doesn't have to be complicated or time-consuming. By following these simple steps, you can build a skincare routine that fits your busy life and helps you achieve flawless skin and plump skin. Remember to keep your routine simple, hydrate, wear sunscreen, get enough sleep, and take time for yourself. Additionally, don't forget to consult with a dermatologist to ensure that you're using the right products for your skin type. Invest in yourself, you deserve it!
Was this article helpful for you busy mothers? Check out more of my blogs where I discuss skin care such as the top 10 skincare brands for mothers, skin care tips and tricks to achieve plump skin, and many more.
FAQ
I'm a busy mom and barely have time for anything, including skincare. How can I establish a quick and effective skincare routine?
I understand the struggle! Start with the basics: a gentle cleanser, a moisturizer with SPF for the daytime, and a hydrating serum for nighttime. Consistency is key, even if it's just a few minutes each day.
What's the best way to combat tired-looking eyes and dark circles?
Dark circles and tired eyes are common for us moms. Consider using an eye cream with ingredients like hyaluronic acid and caffeine to hydrate and reduce puffiness. And don't forget to stay hydrated and get enough rest whenever you can!
Are there any skincare products that are safe to use during pregnancy and breastfeeding?
Safety is crucial during these times. Look for pregnancy-safe products without retinoids, salicylic acid, or other potentially harmful ingredients. Consult your healthcare provider for personalized recommendations.
I have sensitive skin. How can I find products that won't irritate my skin, especially when I'm always on the go?
Opt for hypoallergenic and fragrance-free products. Patch-test new products on a small area of your skin before using them on your face to ensure they won't cause irritation.
What's the most important skincare step for preventing premature aging, and how can I fit it into my busy schedule?
Sunscreen is your best friend! Use a daily moisturizer with SPF, like CeraVe AM Facial Moisturizing Lotion with Sunscreen SPF 30, to protect your skin from UV damage. It's a quick and essential step in your anti-aging routine.