Hey there, radiant moms of the world! Are you ready to indulge in some self-care magic while conquering the #MomLife marathon? Well, hold onto your wipes, because I've got something special in store for you. Introducing the crème de la crème of skincare – the Top 10 Skin care Brands in the World!
Trust me, these aren't just skincare brands; they're your partners in pampering, your allies in the ageless glow, and your secret weapons to tackle every toddler tantrum with grace. So, fellow mother, buckle up as we unveil a skincare journey that's all about YOU. Let's dive in and discover the holy grails that'll have you saying, "Who needs a magic wand when I've got these potions?"
What Are the Top 10 Skincare Brands in the World?
These products all focus on their features to help our aging skin, reduce that dull and tired looking that we get from taking care of our family, hydrate skin, even uneven skin tone, and some even help reduce stretch marks that we get from carrying our babies. Moreover, we get products that are safely designed for pregnant mothers where harmful chemicals are excluded.
Here are my top 10 skin care brand product picks that we will be later discussing in more detail:
The Ordinary
Cetaphil
Bio-Oil
Palmer's Cocoa Butter
La Roche-Posay
Neutrogena
Cerave
SkinCeuticals
Glytone
Augustinus Bader
1. The Ordinary
Overview
In a world full of skincare extravaganzas, The Ordinary stands tall, championing healthy skin and an even healthier bank account for us mothers who are always breaking the bank for family needs. It's the perfect blend of science and simplicity, making dry skin dilemmas a thing of the past. This brand is a dry skin savior, delivering a straightforward approach that's as effective as it is refreshing.
Embracing simplicity doesn't mean skimping on results – The Ordinary's got you covered with a line-up designed to rescue and rejuvenate.
Key Benefits
Here are more convincing benefits The Ordinary is a great pick for moms:
Scientific Elegance: The Ordinary is like a lab coat-clad genius for your skin. Backed by cutting-edge research, their products bring the science of skincare to your fingertips.
Custom Cocktail Magic: Say goodbye to one-size-fits-all routines. The Ordinary empowers you to concoct your skincare magic, mixing and matching tailored treatments for your unique skin needs.
Budget-Friendly Brilliance: The Ordinary redefines luxury by offering top-notch ingredients at prices that won't make your wallet cry.
Simplicity Strikes Gold: No more decoding complicated labels or feeling overwhelmed by a 12-step regimen. The Ordinary's straightforward approach makes skincare accessible and effective.
Targeted Triumph: Why fight a skincare battle on all fronts when you can laser-focus on your concerns? The Ordinary's range of products lets you target specific skin issues with precision.
Pricing
The price range for The Ordinary's products is between $6 USD to $40 USD, easily making it one of the most affordable brands on the list.
Pros & Cons
Pros:
Effective skincare technology delivered in a simple, budget-friendly package.
Products are tailored to target specific skin issues with precision.
Prices for products range from $6 USD to $40 USD – making it one of the most affordable brands on the list.
Cons: Products can be difficult to navigate due to the sheer variety of options.
2. Cetaphil
Overview
Mamas, if there's one brand that understands sensitive skin like a fellow mom, it's Cetaphil. Picture this: a skincare superhero swooping in to save the day, offering a gentle touch that soothes even the most delicate of skin types. As moms, we know the struggle of finding products that hydrate without causing havoc. That's where Cetaphil works its magic – a true companion on our skin care journey.
With a line-up that reads like a love letter to hydration and care, this brand is our secret weapon for ensuring both us and our little ones have happy, healthy skin. So fellow mamas, let's raise a bottle of Cetaphil to skin care that truly gets us.
Key Benefits
Buckle up for the key benefits of Cetaphil because it will definitely win your hearts as it did to mine, this brand is definitely the choice for a mother who adores gentleness:
A lifeline for sensitive skin: Dive into a world where hydration is the heart of care. With Cetaphil, you're not just treating your skin; you're nurturing it with a gentle touch that understands the daily chaos of motherhood.
Gentle Facial Cleanser: Cleanse without stripping to moisturizers that cocoon your skin in comfort, Cetaphil's key benefits are a love letter to the art of sensitive skin care.
Dermatology Tested: Recommended by a board-certified dermatologist for people with sensitive skin.
Pricing
The price range for Cetaphil products is between $8 USD to $45 USD, which is pretty affordable in my opinion with how many products they have.
Pros & Cons
Pros:
Products are specifically designed to be gentle on sensitive skin.
Recommended by certified dermatologists for people with sensitive skins.
Prices range from $8 USD to $45 USD, making it one of the most affordable brands on the list.
Cons: Can take some trial and error to find your ideal product match. Certain products may not be suitable for those with extreme sensitivity.
3. Bio-Oil
Overview
Bio-Oil is an expert in the art of nourishment and regeneration, making it a go-to for moms who want to pamper their skin post-baby. This powerhouse elixir isn't just about skincare; it's a nurturing ritual that understands the ever-changing journey of motherhood. From stretch marks to uneven tone, Bio-Oil swoops in like a guardian angel, addressing your skin's concerns with finesse.
This multitasking superstar is a fantastic choice for busy moms because it can be used on pretty much any area of your body, from face to feet. It's an ideal pick for those who want to add something extra special and rejuvenating into their routine – and that we all deserve!
Key Benefits
Here I've provided you lovely mothers the key benefits and the reason to fall in love with the brand:
Stretch Mark Warrior: It's not just a mark; it's a memory. Bio-Oil helps minimize the look of stretch marks and skin texture, so you can wear your journey proudly.
Anti-Aging Ace: Fine lines and wrinkles might be inevitable, but Bio-Oil's anti-aging prowess helps you age gracefully.
Scar Saviour: Bio-Oil is your ally in fading the appearance of scars, whether they're from the battles of motherhood or life's adventures.
Skin Soother: From sun-kissed to wind-whipped, Bio-Oil's calming touch soothes your skin's woes.
Versatile Virtuoso: It's not just for your face – Bio-Oil loves your body just as much, offering head-to-toe care.
Pricing
Most of Bio-Oil's products do not cost more than $40 USD according to their shop on Amazon.
Pros & Cons
Pros:
Bio-Oil helps minimize the look of stretch marks and skin texture.
Products help to reduce the appearance of fine lines and wrinkles.
Most products do not cost more than $40 USD.
This brand offers head-to-toe care, making it an ideal choice for multi-tasking moms.
Cons: It can take some trial and error to find your ideal product match. Certain products may not be suitable for those with sensitive skin types.
4. Palmer's Cocoa Butter
Overview
Palmer's Cocoa Butter is more of a remedy than just a skincare fix. Say goodbye to the relentless battle against dry skin and hello to a skin-loving elixir that embraces you like a warm hug. As mothers, we understand the importance of a little pampering amidst the hustle, and Palmer gets it too.
With a blend that's all about nurturing, this brand is a lifeline for achieving that enviable glowing skin while protecting skin against the elements. Whether it's the nourishing lotion or the heavenly-scented creams, Palmer's Cocoa Butter isn't just a skincare secret – it's a mother's comforting touch in a bottle.
Key Benefits
Palmer's Cocoa Butter isn't just a beauty secret; it's your partner in preserving your skin's health and radiance and here's why:
Intense Hydration: Say goodbye to dry skin woes. Palmer's Cocoa Butter dives deep to quench your skin's thirst, leaving supple skin.
Natural Ingredients: Embrace the goodness of nature. Palmer's Cocoa Butter is enriched with natural ingredients, making it a treat for your skin and senses.
Glow Getter: If radiant skin is your goal, look no further. Palmer's Cocoa Butter gives you that natural, lit-from-within glow.
Stretch Mark Defence: Motherhood brings a lot of beautiful changes. Palmer's Cocoa Butter helps fade stretch marks, removing dark spots and creating smoother skin.
Pricing
Palmer's Cocoa Butter has many products ranging from skin to hair, however, let's focus on the skin products. Their skin products are probably the cheapest on this top 10 list of best skincare in the world for mothers ranging between $5 USD to under $30 USD.
Pros & Cons
Pros:
Palmer's Cocoa Butter helps to deeply hydrate the skin.
All products are enriched with natural ingredients.
Products help to give the skin a natural, lit-from-within glow.
Prices range from $5 USD to under $30 USD, making it one of the most affordable skincare options on the list.
Cons: It does not have a fragrance-free formula. May take some trial and error to find the ideal product match for your skin type.
5. La Roche-Posay
Overview
Let's talk about a skin care brand that understands the art of effortless beauty – La Roche-Posay. As fellow mothers, we know the drill: makeup remover that doesn't feel like a wrestling match, products that cater to our unique skin types, and the constant search for that perfect balance between "I woke up like this" and reality. Well, La Roche-Posay has got our back. With formulations that read like a love letter to our skin, this brand is the secret behind that skin radiance.
From salicylic acid serums that wave goodbye to pesky blemishes to gentle cleansers that coddle even normal skin, La Roche-Posay isn't just skincare; it's self-care wrapped in a chic bottle.
Key Benefits
Embrace the benefits and let your skin glow with confidence:
Skin-Type Savvy: No matter your skin type – oily, dry, sensitive, or combination – La Roche-Posay's range caters to your unique needs.
Salicylic Acid Expertise: Combat blemishes like a pro with La Roche-Posay's salicylic acid-infused products, targeting breakouts without stripping your skin.
Nourishing Cleansers: From makeup removal to daily cleansing, La Roche-Posay offers gentle cleansers that maintain your skin's natural balance.
Clinically Proven Results: With a track record of board-certified dermatologist, La Roche-Posay ensures you're investing in skincare that works.
Balanced Beauty: Even normal skin needs care. La Roche-Posay provides products that maintain and enhance your skin's natural beauty.
Pricing
La Roche-Posay products are a little bit on the pricey side but still own some affordable products, some products cost under $20 USD but the most expensive ones can cost up to $60 USD.
Pros & Cons
Pros:
La Roche-Posay caters to a variety of skin types.
Products are enriched with Salicylic Acid, helping to target blemishes without stripping the skin.
Offers gentle cleansers that maintain the skin's natural balance.
Cons: On the pricey side compared with other brands on this list. Trial and error may be necessary to find your perfect product match.
6. Neutrogena
Overview
To all the incredible moms out there seeking to balance life's demands while aiming for skin that's as resilient as their spirit – let's talk Neutrogena. As fellow mothers, we understand the struggle of acne-prone skin and the complexities of dealing with different skin types. Neutrogena steps in as a trusty ally, offering solutions that cater to both oily and acne-prone skin. With a touch of vitamin C magic, this brand revitalizes your skin, giving you that radiant boost even on your busiest days.
Think of it as a quick self-care escape amidst the hustle, where clear, refreshed skin becomes your secret weapon.
Key Benefits
Acne Prone Skin Saviour: Neutrogena's formulations are a lifeline for acne-prone skin, offering effective solutions without compromising on care.
Vitamin C Elixir: Revitalize your skin with the magic of vitamin C found in Neutrogena's products, giving you that radiant, refreshed glow.
Oily Skin Tamer: Tired of battling excess oil? Neutrogena's range addresses oily skin concerns, ensuring you shine in all the right ways.
Customized Care: From different skin types to varying concerns, Neutrogena provides tailored solutions, acknowledging that every mom's skin journey is unique.
Pricing
Since Neutrogena have many products range to cater to the needs of everyone's skin needs, they have a wide range of prices, starting under $10 USD to $40 USD.
Pros & Cons
Pros:
Offers solutions for acne-prone and oily skin.
Contains Vitamin C, providing a refreshed glow to the skin.
Products are tailored to different skin types and concerns.
Prices range from under $10 USD to $40 USD.
Cons: May take some trial and error to find the ideal product match for your skin type. Not all products are fragrance-free.
7. CeraVe
Overview
Calling all amazing moms who deserve a skin care routine as flawless as their juggling act! Let's dive into the wonder world of CeraVe, where radiant, hydrated skin becomes a reality. As fellow mothers, we know the importance of self-care that seamlessly fits into our busy days. That's where CeraVe steps in, like a trusted friend who's always got your back. With hyaluronic acid as its secret weapon, this brand transforms parched skin into a hydrated oasis.
Think of it as a rejuvenating pause amidst the chaos of motherhood, a chance to replenish and embrace your glow.
Key Benefits
Skin Barrier Defender: CeraVe's focus on strengthening your skin's natural barrier means you're shielded against external aggressors.
Gentle Ingredients: Specially designed for sensitive skin, CeraVe's products are like a soothing hug for your complexion.
Dermatologist-Developed: Trust in expertise; specially formulated by dermatologists, making them a reliable choice for your skin's health.
Hydration Reimagined: Transform dehydrated, dull skin into a glowing canvas with CeraVe's dedication to ultimate hydration.
Pricing
CeraVe has become many people's choice also for the reasonable prices it offers, for what it can do, most of its products do not cost more than $20 USD.
Pros & Cons
Pros:
CeraVe helps to strengthen your skin's natural barrier.
Products are specially designed for sensitive skin.
Developed by dermatologists, making them a reliable choice for your skin's health.
Affordable.
Fragrance is free for anyone who doesn't like scents.
Cons:
Products are fragrance-free, so if you're looking for a hint of scent you'll have to look elsewhere.
They have a wide range of product kinds so it might be a little bit intimidating to decide.
8. SkinCeuticals
Overview
Let's delve into the world of SkinCeuticals, a brand that understands the essence of radiant, nurtured skin. As fellow moms, we know the importance of an effective skincare regimen that doesn't cut into our precious time. SkinCeuticals steps in as a trusted partner, offering a potent blend of vitamin C and vitamin E magic. Picture this: a radiant boost that revitalizes tired skin after sleepless nights.
With formulations that read like a love letter to your skin's health, SkinCeuticals isn't just skincare; it's a self-care ritual that's as essential as that first sip of morning coffee. So, dear mothers, let's celebrate our journey by embracing a skincare routine that lets our inner glow shine through.
Key Benefits
Vitamin C Powerhouse: SkinCeuticals harness the power of vitamin C, a potent antioxidant that brightens, protects, and revitalizes your skin.
Vitamin E Enrichment: SkinCeuticals products provide a dynamic duo that nurtures and shields your skin from environmental stressors.
Radiance Unleashed: Experience a luminous transformation with SkinCeuticals; their formulations awaken your skin's natural radiance.
Effective Science: Backed by scientific research and innovation, SkinCeuticals ensures your skin reaps the benefits of cutting-edge skincare technology.
Youthful Resilience: Combat signs of aging with SkinCeuticals' arsenal of products designed to support your skin's resilience and youthful vitality.
Pricing
SkinCeuticals is the first brand on the list that has an expensive tag price, with their products ranging between $50 USD and $200 USD.
Pros & Cons
Pros:
The potent combination of Vitamin C and Vitamin E.
Brightens protects and revitalizes your skin.
Cutting Edge skincare technology ensures maximum benefit for your skin.
Fights signs of aging.
Cons:
Products are more expensive compared to the other brands on the list.
9. Glytone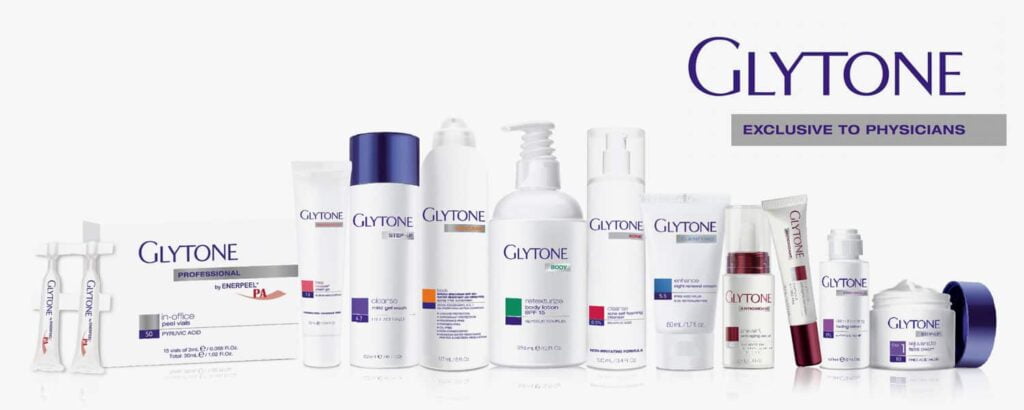 Overview
Glytone steps in like a personal spa day, offering products that blend dermatological expertise with luxurious indulgence. From exfoliating wonders that reveal your skin's radiant canvas to targeted treatments that address specific concerns, Glytone is the gift of confidence in every drop. It's not just skincare; it's a promise to prioritize yourself, even in the midst of chaos.
At the end of the day, all moms deserve a routine that's as nurturing as it is effective. So why not treat yourself to Glytone's pampering potions and see what a difference it makes?
Key Benefits
Exfoliating Gems: Enjoy superior exfoliation with products designed to reveal your skin's natural glow.
Personalized Care: Glytone understands that no two skins are alike, which is why their range caters to different needs, ensuring a tailored approach for you.
Targeted Treatments: From acne to signs of aging, Glytone's range offers specific solutions for various skin concerns, ensuring you have the tools for your unique journey.
Professional-Grade Results: Experience the power of products that mirror the effects of professional treatments, all within the comfort of your own home.
Pricing
Glytone is in the mid-range prices skincare brands, they're not as budget friendly but not the most expensive on the list, with prices ranging between $20+ USD to $100+ USD.
Pros & Cons
Pros:
Great exfoliation.
Products cater to different needs.
Offers targeted treatments for various skin concerns.
Allows you to experience the power of professional treatments in your own home.
Cons:
Not as budget-friendly as other brands on the list.
10. Augustinus Bader
Overview
When it comes to luxury skincare brands that deliver on their promises, Augustinus Bader stands out as a true gem. Their approach focuses on nourishing the skin from within, utilizing cutting-edge technology and carefully selected ingredients. The result is a luxurious skincare experience that leaves your skin looking and feeling its best. One standout product from their range is their dewy skin cream, a true game-changer in the pursuit of luminous, glowing skin. Experience the power of their dewy skin cream and embrace the radiance that comes from indulging in the very best that skincare has to offer.
Key Benefits
Augustinus Bader is a testament to cutting-edge science and simplicity, delivering transformative results that let your natural beauty shine through:
Skin Barrier Support: Nourish your skin's protective barrier with ingredients that promote overall skin health and resilience.
Versatile Elegance: Whether you're addressing signs of aging skin, dryness, or dullness, it can adapt to your skin's evolving needs.
Cellular Renewal: Augustinus Bader's unique technology stimulates your skin's natural renewal processes, leaving you with radiant and plump skin, plus a youthful complexion.
Dermatologist-Tested: Trust in scientific innovation; Augustinus Bader's products are meticulously developed and tested by dermatologists for proven effectiveness.
Pricing
Augustinus Bader easily takes place in the pricey skincare product category on the list, it is the definition of luxury skin care after all. The most expensive product can cost up to $400 USD only for one bottle of serum.
Pros & Cons
One of the things I love most about Augustinus Bader is their dedication to quality and efficacy. Their products are meticulously formulated with a focus on science-backed ingredients and innovative technologies. Each jar of their dewy skin cream is a testament to their commitment to delivering exceptional skincare experiences. Meanwhile, the drawback of the product would be its expensive price.
What Is Skin care?
Skin care is more than just creams and concoctions; it's a delightful ritual that pampers and rejuvenates, with the promise of smoother, happier skin. Whether you're a skin care novice or a seasoned enthusiast, the art of skin care involves understanding your skin's needs and curating a routine that brings out its natural glow.
At its core, skin care is about showing love and attention to your skin. It can involve anything from a simple cleansing routine with minimal products to an elaborate system of toners, serums, and face masks.
The key is to find the routine that works best for you and stick with it!
How Can Skin care Benefit You?,
By prioritizing skincare, you are not only pampering yourself but also nurturing and protecting your skin from various external aggressors:
You can ensure your skin is shielded from the damaging effects of UV rays with SPF. This simple step not only helps prevent sunburn but also protects against long-term damage such as premature aging and increased risk of skin cancer.
By using gentle cleansers that don't strip away natural oils and moisturizers that lock in, you can maintain a healthy skin barrier which is another significant benefit of skincare. The skin barrier acts as a protective barrier against environmental pollutants, bacteria, and moisture loss.
By consistently caring for your skin, you can effectively delay the signs of aging, minimize the appearance of fine lines and wrinkles, and maintain a youthful glow.
So, whether you're in your twenties or beyond, starting a skincare routine tailored to your skin type and concerns can have a profound impact on your skin's health and overall confidence.
Buyers Guide: How We Conducted Our Researched
When it comes to finding your skincare allies, I understand the importance of transparency and thoroughness. My approach is all about diving deep into the realm of pricing, exploring the array of features each product brings to the table, and even considering the potential negatives to provide a well-rounded perspective.
Pricing: Most of the listed products are affordable, one being under $10, but also included one option for anyone who wants luxury in their skin care routine.
Features: Since I am writing this for mothers, I made sure to search for products that have all the necessary solutions that can aid with our concerns such as aging, dark spots, and stretch marks.
Negatives: Some of the products are made gently for our aging and sensitive skin, therefore, they might not work as effectively, and takes time to see results.
Support and refund: All of these products are widely known for having a good reputation, with many users, therefore, they all have good support.
Conclusion/Wrapping Up
It has been an absolute delight and honor to discuss the top 10 skincare products for moms. Let's all take some time out of our busy schedules to appreciate the amazing skin products that we have available to keep us looking our best. Whether you prefer luxurious gadgets or simple lotions, there is something out there for everyone and I hope this blog could guide you in finding the item that best suits your needs. To summarize, we've discussed top 10 skincare brands in the world that are suitable for mothers.
Can any of the mama's out there reading this relate to any of the skin concerns that we've covered? We hope this blog has inspired you – go forth and find your perfect match!
Frequently Asked Questions
What are the most important skincare steps in a skin care routine?
The most important skincare steps are:
Cleansing: Remove dirt, oil, and impurities from your skin with a gentle cleanser suited to your skin type.
Toning: Toners help to balance your skin's pH levels and prep your skin for the next steps in your routine.
Exfoliating: Done 1-3 times per week, this step removes dead skin cells and allows your other skincare products to penetrate deeper.
Serums: These are concentrated treatments that target specific skin concerns such as fine lines, dark spots, and dehydration.
Moisturizing: Hydrate and lock in moisture with a moisturizer that fits your skin type and climate.
Sun Protection: Apply broad-spectrum SPF daily to protect your skin from harmful UV rays and prevent signs of premature aging.
Remember that each person's skincare routine might look different depending on their skin type, concerns, and lifestyle, but these steps offer a good starting point.
Are there any skincare products that are not safe for sensitive skin?
Yes, there are some skincare products that are not safe for sensitive skin. Generally, these products contain harsh ingredients such as fragrances, alcohols, parabens, and sulfates which can irritate the skin and cause redness or irritation. To avoid this, opt for formulations specifically designed for sensitive skin or look for labels.
What are some natural ingredients for skincare?
Natural ingredients for skin care include a variety of plant-based substances that can offer beneficial effects for the skin. Some common examples include aloe vera, known for its soothing and moisturizing properties; coconut oil, which is often used as a natural moisturizer; tea tree oil, recognized for its antibacterial and anti-inflammatory qualities; and shea butter, rich in vitamins and fatty acids for nourishing the skin.
What is the best way to exfoliate skin?
The best way to exfoliate the skin is to use a gentle exfoliant 1-2 times per week, depending on your skin type. Start by using lukewarm water to dampen your skin and then massage the product in circular motions for 30-60 seconds. Finally, rinse with cold or tepid water and pat dry with a soft towel.
How can I prevent skin damage from the sun?
The best way to prevent skin damage from the sun is to apply broad-spectrum SPF sunscreen every day, even during cold or cloudy days. For maximum protection, choose a product with an SPF of 30 or higher and reapply at least every two hours. Additionally, try to stay in the shade as much as possible during peak sunshine hours and wear protective.