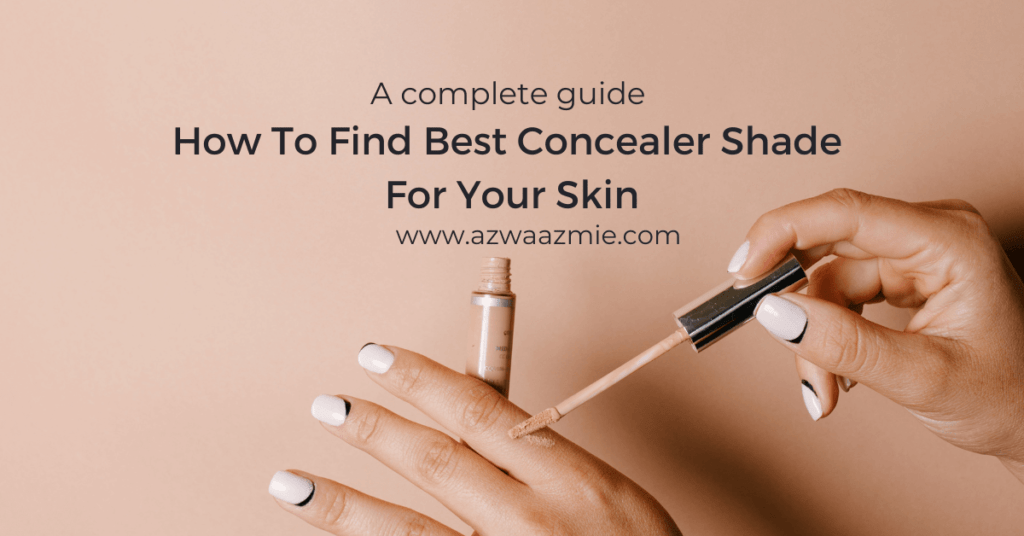 Hello there hardworking mama! Are you struggling to find the right concealer shade for your skin?
Being a mom is a full-time job. Whether you're juggling laundry, grocery shopping, or trying to get your kids out the door in the morning, time is always of the essence. Amidst all the craziness, it can be tough to find those precious moments to take care of yourself. One of the most frustrating things for busy moms is finding the right concealer shade that suits our skin tone.
But don't worry, I've got you covered. In this post, I'll give you some tips on how to find the best concealer shade for your skin without having to spend hours trying different brands and shades. So, grab a cup of coffee, and let's get started!
What are Concealers?
Concealers are a type of cosmetic product that is designed to cover up imperfections on the skin. These include blemishes, dark circles, age spots, and any discoloration. The purpose of a concealer is to even out the skin tone, giving it a smoother and more flawless appearance.
They come in different forms – liquid, stick, cream, or powder – and are often used in conjunction with other makeup products like foundation and powder. Some concealers also contain skincare ingredients to help improve the skin's condition over time.
Finding the right concealer involves considering your skin type, your skin tone, and the type of coverage you want.
Concealer Vs. Foundation
While both concealers and foundations aim to create a smooth, even skin tone, they serve different purposes and are used in different ways. The foundation is typically the first step in the makeup process and is designed to be used on the entire face. Its primary function is to create a uniform complexion and sometimes, depending on the product, provide a degree of moisture or sun protection.
On the other hand, concealer is typically used after foundation. It's meant to cover specific areas or imperfections, like acne spots, dark circles, or hyperpigmentation. The concealer tends to be thicker and provides more coverage than the foundation.
In essence, while foundation sets the stage for your makeup, concealer is used to spotlight and correct specific areas. Understanding the difference between these two products and how to use them in tandem can dramatically improve your makeup routine.
How to Find Best Concealer Shade
Step 1: Determine your skin undertone
The first step in how to find the best concealer shade is to determine whether your skin has a warm, cool, or neutral undertone.
A quick way to do this is to look at the veins on the inside of your wrist:
Blue or purple veins = Cool undertone
Greenish veins = Warm undertone
Can't tell or both = Neutral undertone
Once you have determined your undertone, you can easily find a concealer shade that matches your skin tone. If you have a cool undertone, look for shades that have pink or blue undertones. For warm undertones, look for shades with yellow or golden undertones. And for neutral undertones, you can choose shades with a mix of pink and yellow undertones.
Step 2: Test the Concealer Shade in Natural Light
One of the most common mistakes people make when selecting a concealer shade is that they test the shade on their hands. However, your hand is not the same color as your face, plus you don't want to end up with a concealer shade that appears too light or too dark!
Instead, try to test the shade in natural light on your face.
Head to a well-lit area near a window or outside, apply the concealer to an area of your face (such as under your eyes or blemishes) and see how it blends with your natural skin tone. If it blends seamlessly with your skin, then you've found a winner!
Step 3: Determine the Level of Coverage Needed
Step 3 on how to find the best concealer shade is that It's important to determine the level of coverage needed to achieve the desired look.
If you're just trying to touch up a few imperfections – a light coverage concealer may be sufficient.
If you're trying to cover dark circles or blemishes – a full-coverage concealer may be necessary.
When choosing a concealer for dark circles, it's important to find a shade that is slightly lighter than your foundation shade. This will help brighten up the under-eye area and camouflage any discoloration. However, if you're trying to cover blemishes or redness, then choose a shade that is an exact match to your skin tone.
Step 4: Think about the Formulation
The formulation of your concealer can make a big difference in how it looks on your skin. For example:
If you have dry skin, you may want to opt for a creamy concealer that will not accentuate dry patches.
If you have oily skin, then a matte formula may work best to prevent excess shine.
Additionally, if you're prone to sensitivity or have specific skin concerns, look for concealer formulas that are formulated without harmful chemicals or fragrances, to avoid any adverse reactions.
Recommended Best Concealers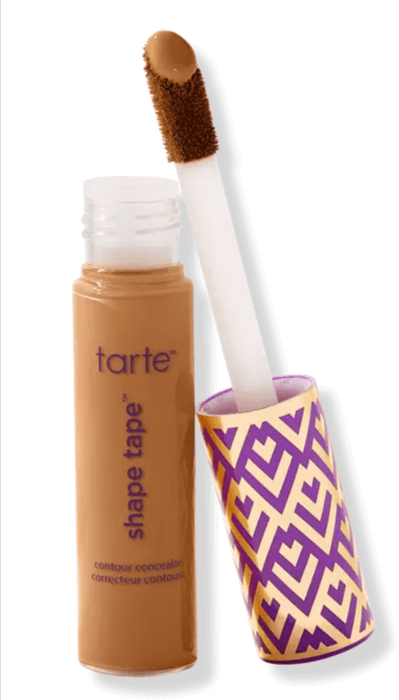 As a busy mom, I know that getting enough sleep can sometimes feel like an impossible dream. That's where the Shape Tape Full Coverage Concealer comes to the rescue. This concealer is a game-changer for tired eyes and those late-night baby feedings.
Its key features include exceptional coverage, a wide shade range to match all skin tones, and a long-lasting formula that stays put even during the most hectic days.
Pros and Cons
Pros
Full Coverage: The Shape Tape Concealer truly lives up to its name by providing incredible coverage for dark circles, blemishes, and redness, leaving you looking refreshed and well-rested.
Long-Lasting: You won't have to worry about constant touch-ups because this concealer stays in place all day, no matter what mom life throws your way.
Wide Shade Range: Finding the perfect match for your skin tone is a breeze with its extensive shade range, ensuring a seamless blend.
Cons
Pricey: While the quality is top-notch, it's worth noting that this concealer is on the higher end of the price spectrum. However, a little goes a long way, so it lasts a while.
Thicker Texture: Some moms might find the formula a bit thick, so it's essential to apply it sparingly and blend thoroughly to avoid a cakey look.
The NARS Radiant Creamy Concealer is like a little secret weapon for moms, helping you achieve a refreshed, radiant look even on your busiest days. Its creamy texture and radiant finish make it a top choice for those looking to brighten up their complexion effortlessly. It's a must-have for moms who want to put their best face forward while handling the daily chaos of motherhood.
This concealer boasts key features like a creamy texture, radiant finish, and a wide shade range to suit various skin tones, making it a staple in any mom's makeup bag.
Pros and Cons
Pros
Creamy and Blendable: The texture of this concealer is like a dream—it's creamy, smooth, and effortlessly blendable, making it easy to apply even in a hurry.
Radiant Finish: For moms who want to achieve that healthy, radiant glow, this concealer delivers just that without looking overly shiny.
Buildable Coverage: Whether you need light coverage for a quick outing or extra coverage to conceal those sleepless nights, it's buildable to suit your needs.
Cons
Price Point: Similar to other high-end concealers, the NARS Radiant Creamy Concealer is on the more expensive side. However, many moms find it to be worth the investment.
Settles into Fine Lines: For some users, especially those with mature skin, the concealer might settle into fine lines over time. Proper moisturizing and setting can help mitigate this.
The Maybelline New York Instant Age Rewind Eraser Dark Circles Treatment Concealer is like a little secret weapon in your makeup arsenal, helping you look refreshed and awake even after those long nights. Its innovative applicator and dark circle treatment make it a practical choice for moms, and its budget-friendly price tag ensures that you can stay fabulous without breaking the bank. It's the go-to solution for moms on the go who want to tackle dark circles and look their best.
With key features like an easy-to-use applicator, a multi-tasking formula, and an affordable price point, it's a mom's best friend.
Pros and Cons
Pros
Innovative Applicator: The built-in sponge applicator makes applying this concealer a breeze, saving you precious time in your daily routine.
Dark Circle Treatment: It's not just a concealer; it's also a treatment that helps reduce the appearance of dark circles over time, a bonus for busy moms.
Budget-Friendly: This concealer is incredibly affordable, making it accessible for all moms without compromising on quality.
Cons
Limited Shade Range: While it offers a good range of shades, some moms may find the shade options a bit limited compared to high-end brands.
Buildability: It may require a bit more product for full coverage, so be prepared to layer it if you have stubborn dark circles.
Conclusion
Finding the best concealer shade for your skin tone doesn't have to be a daunting task. With these simple tips, you can easily narrow down your options and find a shade that will work perfectly for you.
Remember, determining your undertone, natural lighting, coverage needs, and formulation are important factors in finding the perfect concealer shade for your skin. So, whether you're a busy mom or just looking to upgrade your makeup routine, take the time to find the perfect concealer shade that enhances your natural beauty!
Was this How to Find Best Concealer Shade for your blog helpful? If it was, check out more of my blogs where I discuss and share more makeup and skin care tips specially made for mothers like you who are looking to rebuild that radiant skin. I also talk about top brand products for certain skin concerns, the best nude pink lipstick for mothers, and many more.
FAQ
1. What is the purpose of using a concealer as a mother?
A concealer is a makeup product that can help mothers hide imperfections like dark circles, blemishes, and redness, providing a more refreshed and well-rested appearance despite the demands of motherhood.
2. Can concealer be used to cover other imperfections besides dark circles?
Absolutely! Concealers are versatile and can be used to hide blemishes, redness, acne scars, and even fine lines. Look for a concealer with good coverage and blendability for these purposes.
3. How can I make my concealer last longer throughout the day?
To make your concealer last longer, start with a clean, moisturized face. Apply a primer before concealer, set it with a light dusting of translucent powder, and consider using a makeup setting spray to lock it in place.
4. Are there any skincare benefits to using certain concealers?
Yes, some concealers, like the Maybelline Instant Age Rewind Eraser, offer skincare benefits. They may contain ingredients to hydrate, reduce puffiness, or treat dark circles over time, providing dual benefits for your skin.
5. What is the difference between high-end and drugstore concealers for moms on a budget?
High-end concealers often come with premium ingredients and packaging, but drugstore concealers can be equally effective at a lower cost. The key is finding a product that suits your needs and skin type. Both options can help moms achieve a refreshed look without breaking the bank.