As a hijabi Muslim, I'm always on the hunt for ways to blend modesty with the latest fashion trends. That's why I'm thrilled to introduce you to how to style green cargo pants with hijab. Yes, you heard it right – green cargo pants!
These aren't just your ordinary trousers. The versatility of cargo pants is what truly sets them apart. They're like a chameleon in the fashion world, easily adapting to different looks and styles. One day, they're casual and laid-back, perfect for a day out with friends. The next, they're chic and sophisticated, ready for a professional setting or a fancy dinner.
The goal of this post? To inspire you with creative, trendy, and most importantly, modest outfit ideas using green cargo pants. So, whether you're a seasoned fashionista or just starting to experiment with your style, get ready to revolutionize your wardrobe. Let's dive in and explore the endless styling possibilities together!
Understanding the Cargo Pant Trend
Cargo pants, oh how I adore thee! It seems like the fashion world has caught up with my love for these versatile trousers. Everywhere you look, from high-fashion runways to street-style snaps, cargo pants are making a serious comeback. But why, you might wonder? The answer is simple – comfort and functionality.
I remember the first time I slipped into a pair of cargo pants. There was an immediate sense of ease and freedom that came with the roomy pockets and relaxed fit. It felt like I was wearing my favorite pair of comfy pajamas, yet I looked ready to strut down a fashion runway. And that's the beauty of cargo pants – they blend comfort with style effortlessly.
But here's the best part – they're not just for lounging around at home or running errands. With the right styling, you can dress them up for a dinner date or even a day at the office. They're the perfect canvas for experimenting with different looks and expressing your personal style.
So whether you're a seasoned cargo pant lover like me, or you're considering trying them out for the first time, I'm here to guide you through the journey. Together, we'll explore different ways to style these fabulous trousers and make them work for various occasions. Let's dive in!
Choosing the Right Green Shade
When it comes to colors, green is like a treasure box full of surprises. There are so many shades to explore – from the deep and luxurious forest green to the subtle and soothing sage, and my personal favorite, the versatile olive green. But here's something I've learned from my fashion journey – not every shade works for everyone.
Choosing the right hue of green, or any color for that matter, has a lot to do with your skin undertones. Some shades might make you glow like the morning sun, while others just don't do justice to your natural beauty. And as a hijabi Muslim, I know how important it is to find colors that not only respect our modesty but also enhance our individuality.
For instance, if you have warm undertones, earthy greens like olive or moss can beautifully complement your complexion. On the other hand, cooler undertones can really shine with shades like mint or emerald green. But remember, these are just guidelines, not rules set in stone. At the end of the day, what matters most is how you feel about what you're wearing.
So, as we delve into styling green cargo pants, keep in mind the variety of green hues available. Experiment with them, and see which ones make you feel the most confident and comfortable. After all, fashion is all about expressing yourself and having fun along the way! Let's embark on this colorful journey together, shall we?
How To Style Green Cargo Pants?
Green cargo pants – they're not just a fashion statement, they're a lifestyle! As a hijabi Muslim, my wardrobe is filled with versatile pieces that respect my faith and allow me to express my personal style. And trust me when I say this, green cargo pants have become an indispensable part of my fashion repertoire.
Now, I know what you're thinking – how can one pair of pants be so versatile? Well, let me share with you three of my favorite ways to style these beauties, each perfect for a different occasion:
Outfit Idea 1: Casual Chic
Outfit Idea 2: Work-Ready
Outfit Idea 3: Weekend Adventure
The beauty of fashion lies in its flexibility and adaptability. So, whether you're dressing up for work, a casual day out, or an adventurous weekend, remember to make it your own. After all, you're not just wearing an outfit; you're expressing who you are. Let's explore these looks in more detail, shall we?
Outfit Idea 1: Casual Chic
Ah, the Casual Chic look – it's one of my absolute favorites! It's all about striking that perfect balance between comfort and style, and let me tell you, green cargo pants are a game-changer in this department. Pair them with a long, neutral-toned tunic or an oversized shirt, and you've got yourself an outfit that's both modest and trendy.
When I first tried on this ensemble, I remember looking in the mirror and thinking, "Wow, this is it!" The green cargo pants added a pop of color to the neutral tones of the tunic, creating a visually appealing contrast. Plus, the loose fit of both the pants and the shirt ensured I was comfortable all day long.
Now, let's talk about layering. If there's a slight chill in the air, or if you're just feeling a little extra, adding a denim jacket or a chunky knit cardigan can really elevate your look. Personally, I'm a huge fan of the denim jacket. It adds a bit of edge to the outfit and complements the cargo pants beautifully.
source: uniqlo.com
And of course, let's not forget about footwear. Comfortable sneakers or ankle boots are the way to go. Sneakers add a casual, laid-back vibe to the outfit, while ankle boots can give it a slightly more polished look. Both options work wonderfully with this outfit.
So, next time you're staring at your wardrobe wondering what to wear, why not give this Casual Chic look a try? It's versatile, stylish, and most importantly, hijabi-friendly. Trust me, once you try it, you'll be reaching for those green cargo pants more often than you think!
Outfit Idea 2: Work-Ready
Who says green cargo pants can't be office-appropriate? With the right pairings, you can transform these versatile bottoms into a polished, Work-Ready outfit. Trust me, I've done it, and the compliments just kept coming!
The first step is to find the perfect top. A modest blouse in a neutral color works wonders. It's simple, it's elegant, and it provides the perfect canvas for your green cargo pants to shine.
Next, layer on a fitted blazer or a structured long jacket. This is where the magic happens. Suddenly, your casual cargo pants are part of a sophisticated ensemble, ready to make an impression in any professional setting. I remember the first time I tried this combo – I felt like I could take on the world!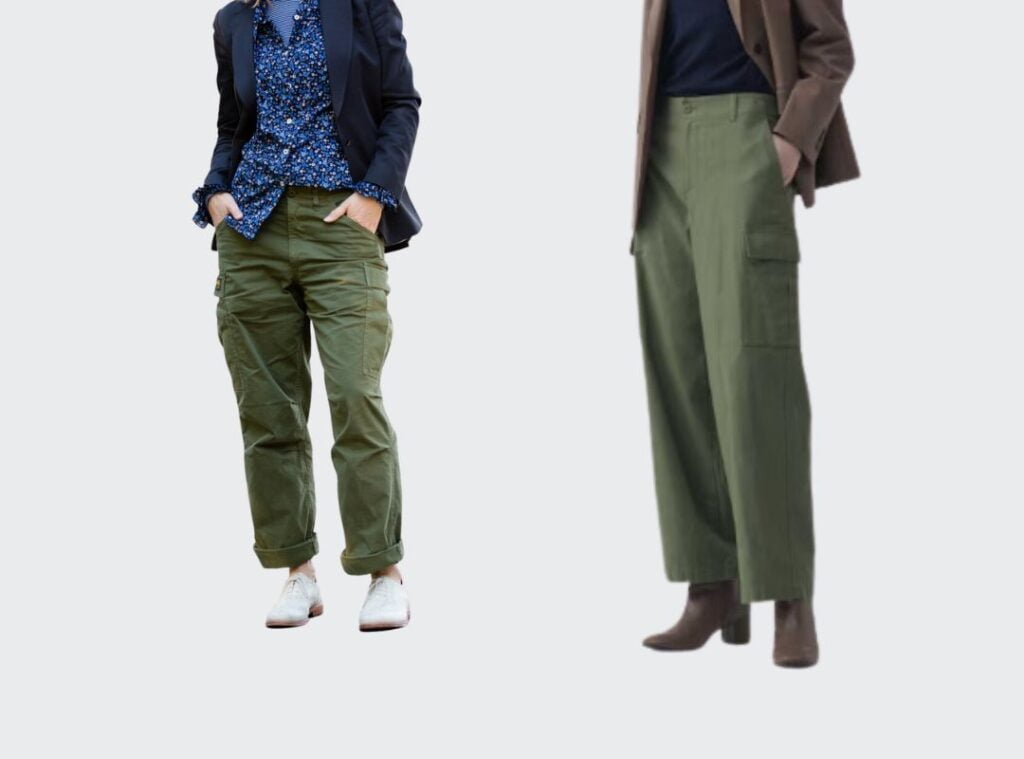 Now, let's talk accessories. Minimalistic jewelry and a sophisticated handbag can really elevate your look. I usually opt for delicate gold or silver pieces – nothing too flashy, just enough to add a touch of femininity to the outfit. And as for the handbag, I always say, go for something that's as practical as it is stylish. After all, we're dressing for work, right?
And finally, the shoes. Closed-toe pumps or loafers are your best bet here. They're professional, they're comfortable, and they complement the cargo pants beautifully.
So, the next time you're getting ready for work and want to try something a little different, why not give this outfit a go? It's professional, it's stylish, and best of all, it's hijabi-friendly. You'll be turning heads in the office in no time!
Outfit Idea 3: Weekend Adventure
Weekends are for adventures, and what better way to embark on one than in a comfortable and stylish outfit? I've got just the look for you – featuring our trusty green cargo pants, a cool graphic tee, and a utility jacket. This ensemble has 'Weekend Adventure' written all over it!
Let's start with the graphic tee. It's casual, it's fun, and it lends a youthful vibe to the outfit. I remember wearing this combo on a weekend trip with my friends, and let me tell you, it was a hit! The tee added a pop of personality to the outfit, and the cargo pants kept me comfortable throughout our day of exploring.
Now, onto the utility jacket. This piece is not only practical (hello, extra pockets!), but it also adds an extra layer of style to the look. Whether you're out in nature or wandering through city streets, this jacket will keep you warm and looking great.
And of course, we can't forget about accessories. A crossbody bag is a must for any adventure. It allows you to keep your essentials close while leaving your hands free for exploring (or taking selfies!).
For footwear, comfortable sneakers or combat boots are the way to go. They're perfect for long walks or impromptu hikes, and they add a cool, edgy touch to the outfit.
So, next time your weekend plans involve a bit of adventure, why not try this outfit? It's comfortable, it's stylish, and it's perfect for a hijabi Muslim like you and me. Happy exploring!
Elevating the Look with Accessories:
Accessories, in my opinion, are the secret weapons of fashion. They have this incredible ability to transform an outfit from plain to fabulous in a heartbeat. As a hijabi Muslim, I've come to appreciate the power of a well-chosen accessory.
Let's talk about scarves and shawls. These aren't just for covering your head, you know! Layering these delicate pieces over your outfit can add a whole new dimension to your look. They bring texture, color, and most importantly, a touch of elegance. I remember this one time when I was getting ready for a friend's wedding. I was wearing a simple black dress and felt like it was missing something. Then I decided to drape a shimmery gold shawl over my shoulders, and voila! It instantly elevated my look and added that much-needed festive vibe.
So, next time you're putting together an outfit, whether it's for a special occasion or just another day at the office, don't underestimate the power of accessories. A scarf, a shawl, a statement necklace, or even a pair of chic sunglasses can make all the difference. Trust me, as someone who has seen their transformative power firsthand, I can assure you that the right accessories can take your outfit from good to great. And as a hijabi Muslim woman, this is one fashion tip that I swear by!
Makeup and Hijab Styles to Match:
When it comes to completing any outfit, the right makeup and hijab style can make a world of difference. As a hijabi Muslim, I've found that these final touches can truly bring a look together.
Let's talk about makeup first. If you're rocking green cargo pants, we want to keep your makeup subtle but impactful. I suggest going for a neutral eyeshadow palette with shades of brown and beige – it really complements the earthy tones of the cargo pants. A swipe of mascara, a touch of blush, and a nude lip will complete your look perfectly. Remember, the goal is to enhance your natural beauty, not overshadow it.
Now, onto the hijab. Choosing a hijab that complements your outfit's color palette is key. Considering our green cargo pants, I'd recommend a hijab in a neutral shade, like beige or cream. It will balance out the strong green color and create a harmonious look.
As for the style, I've always been a fan of the classic wrap style. It's simple, elegant, and works well with almost any outfit. But remember, the best hijab style is the one that makes you feel comfortable and confident.
So, next time you're dressing up, give these tips a try. Matching your makeup and hijab style to your outfit can elevate your look and make you feel even more stylish and confident.
Conclusion
In conclusion, the right makeup and hijab style can truly make your outfit pop. When it comes to green cargo pants, a neutral makeup palette, and a complementary hijab can create a chic and put-together look. This versatile piece can be dressed up or down, making it a must-have in every hijabi Muslim's wardrobe.
So why not give green cargo pants a try? They're comfortable, and stylish, and offer endless styling possibilities. Whether you're going for a laid-back look or want to dress them up, these pants can do it all. Trust me, once you try them, you'll wonder how you ever lived without them. Ready to elevate your style game? Check out our collection of green cargo pants [insert link here] and start creating your own stunning looks today!