If you're a wfh mom owner looking for the best accounts software for small businesses to keep your finances organized and running smoothly, you've come to the right place. We know how valuable time is when it comes to business operations–finding the ideal accounting system can be daunting. That's why we put together this guide!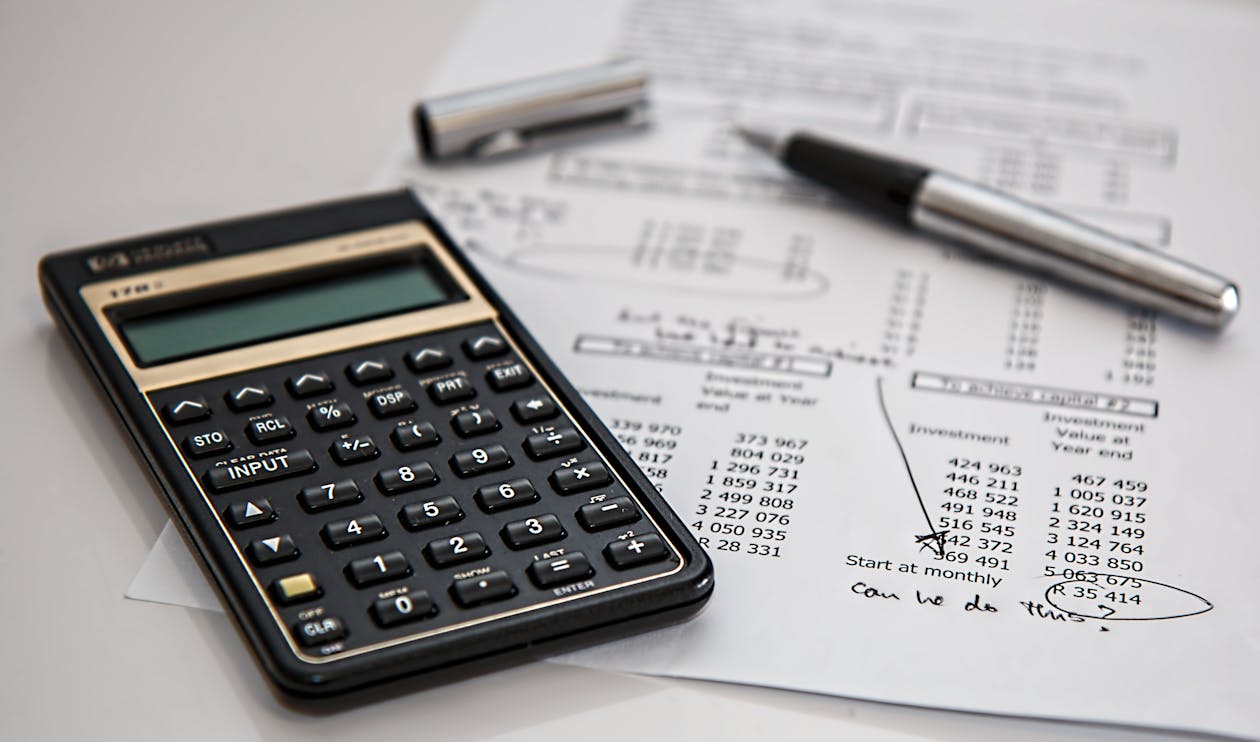 Source: Pexels
Welcome, small business owners and financial enthusiasts, to our comprehensive guide on finding the best accounting software tailored specifically for your needs. Running a small business comes with its unique challenges, and managing finances shouldn't be one of them. Whether you're a budding entrepreneur or a seasoned business owner, choosing the right accounting software can be a game-changer for your company's financial health.
So if you're ready get started on finding an efficient accounts platform that will give your company lasting financial clarity–look no further! You'll have everything you need in one convenient spot so that you make the best decision quickly and get back to focusing on what counts: Your business!
What is accounting software?
A computer program called accounting software has been developed to manage a company's financial records and handle financial transactions. It assists companies with streamlining bookkeeping, monitoring spending, generating financial reports, and ensuring tax compliance.
Why do businesses need accounting software?
Accounting software has become essential for businesses in the running for years, this is because of the numerous advantages that follow accounting software including:
Automating monotonous processes
Lowering manual errors
Time saver
Increasing the accuracy of financial reporting
Promoting improved decision-making
Protecting the security of financial data
Best Accounts Software for Small Business
In this part of the blog, we'll dive into the top contenders for the coveted title of "Best Accounting Software for Small Business", providing you with the key features, benefits, and hidden gems that these accounting software solutions have to offer. From simplifying invoicing processes to effortlessly tracking expenses, we'll reveal the tools that can make your financial management a breeze.
FreshBooks
With its user-friendly interface and comprehensive accounting features, FreshBooks has earned its place as a go-to choice for businesses of all sizes. This cloud-based accounting software offers a seamless platform for managing finances. Its robust expense-tracking system simplifies expense management by allowing you to capture, categorize, and track expenses effortlessly.
FreshBooks Price Plans
FreshBooks offers various subscription plans tailored to different business needs, there are 4 price options as the following:
1. Lite Plan
$13.60USD per month with features included such as:
Send unlimited invoices to up to 5 clients.
Track unlimited expenses.
Send unlimited estimates.
Get paid with credit cards and bank transfers.
Run reports for an easy tax time.
2. Plus Plan
$24.00USD per month including features such as:
All the lite features but with a higher limit.
Capture receipt data.
Send receipts to your account.
Credit cards and bank transfers.
Can set up recurring bills and client retainers.
Business health reports.
Financial and accounting reports.
Invite the business's accountant.
3. Premium Plan
$44.00USD per month and the following features:
All the plus features are included with higher/unlimited limits.
Track profits.
Track expenses.
Send reminders for late payment fees.
Customized email templates and signatures.
Checkout links.
4. Customized
The price can be customized depending on your business's needs. Talk to a professional to get started!
Moreover, all these plans allow you to access your mobile phones from anywhere!
Image source: Freshbook
While the pricing may be higher than some other accounting software options, many users find the investment worthwhile, thanks to the software's comprehensive features and ease of use.
FreshBooks Pros and Cons
Like any other accounting software, FreshBooks comes with its set of pros and cons.
Here is a simplified list of those the positives:
Intuitive user interface – makes it easy for even accounting novices to navigate and utilize the software efficiently.
Excellent customer support – ensuring that you get the assistance you need when tackling financial challenges.
And here are the negatives of FreshBooks:
May lack certain advanced functionalities for bigger or more complex businesses.
Overall, not suitable for more prominent companies and that is why it is suitable for small businesses.
Wave
The next in the realm of small business accounting software is Wave Accounting. Wave comes equipped with a range of essential accounting features, from invoicing and expense tracking to financial reporting and even payroll management. Its user-friendly interface makes it accessible to entrepreneurs with varying degrees of accounting knowledge, allowing them to navigate the software without getting lost.
Wave Price Plans
One of the most appealing aspects of Wave is that it's free accounting software—yes, you heard that right! For start-ups and small businesses on a tight budget, this can be a game-changer.
Wave Pros and Cons
Again, for your convenience, we've compiled a list of the benefits and disadvantages of this small business accounting software. The following are the benefits of Wave:
Affordable – it's free!
Cloud-based accounting software – making it accessible from anywhere.
Seamless integration with bank accounts and credit cards – making bank reconciliation a breeze.
Meanwhile, Wave accounting also has its disadvantages such as:
Being a free accounting software, some advanced features and support options might be limited.
Thus, not suitable for more prominent companies.
Nevertheless, for small businesses and start-ups looking to dip their toes into the world of streamlined financial management without breaking the bank, Wave can be an excellent choice.
Xero
Our next destination in the quest for the best accounting software for small businesses is Xero—an online accounting software that's making waves in the financial world. Xero sets sail to simplify your accounting tasks and offers a comprehensive platform for managing your business's finance.
Xero Price Plans
Xero has made it simple for newbies who want to subscribe to their product when they've provided us with 3 price plan options:
1. Starter
$ 25 USD per month.
Best for newbies, freelancers and self-employed workers.
2. Standard
$ 40 USD per month.
Suitable for small business that is on the rise.
3. Premium
$ 54 USD per month.
Best suited for bigger and well-established companies.
Image sources: Xero
Xero Pros and Cons
Let's dive into more details, and explore the pros and cons of Xero. The accounting software is equipped with various benefits that will surely pique the interest of many! and here are why:
As an online accounting software – allows you to access your financial data securely from anywhere with an internet connection.
User-friendly interface and intuitive design.
Emphasise collaboration – enables multiple users to work concurrently.
On the flip side, there are a few cons to consider:
Xero boasts a vast library of integrations with third-party apps, some users may find that they need to invest in these add-ons to access certain functionalities.
The prices are on the pricey side for the number of features it offers – some might think it's not worth it.
Zoho Books
Zoho Books is a powerful small business accounting software that goes beyond basic bookkeeping. It has all the amazing features that you'll ever need in accounting software, such as:
Its robust inventory management capabilities – help you maintain a clear overview of your merchandise, ensuring you never run out of your best-selling treasures.
Time tracking – allowing you to accurately record billable hours and streamline your invoicing process.
Supports seamless integration with your business bank accounts, enabling effortless bank reconciliation.
Zoho Books Price Plans
Here is the various list of price plans for Zoho Books, for further and detailed information on each plan, visit Zoho Books!
Diagram source: https://www.zoho.com/books/pricing/
Zoho Books Pros and Cons
As with any software treasure, there are both advantages and disadvantages to consider. On the bright side, its user-friendly interface that's easy to navigate for both seasoned businesses and accounting newcomers, plus, its competitive pricing plans make it a cost-effective choice for businesses of all sizes. However, there is a lack of features in some price plans, which will be disadvantageous for business owners who have a specific budget.
OfficeCentral

For businesses seeking an all-in-one solution, Office Central stands tall as a contender for the best overall accounting software. Its payroll services ensure smooth and accurate processing of employee salaries, taxes, and deductions. By combining office supplies, bookkeeping, and payroll services under one roof, Office Central delivers a unified and efficient solution that allows you to navigate your business with ease.
OfficeCentral is based in southeast countries like Malaysia and Indonesia, and most of its users are from those countries.
Office Central Price Plans
There is not much info on the pricing of the product, but as far as we know, it costs around 59.00MYR (12.94USD) per month. For anyone who wants to know more, it is best that you contact the Office Central support team for the quote.
Office Central Pros and cons
This Malaysia-based accounting software is equipped with its pros and cons as well.
Here are the pros of Office Central:
Best overall accounting software.
Seamless integration with payroll services.
Streamlining employee salary processing.
Tax management.
The cons are as follows:
Limited customization and scalability compared to other software options.
Less suitable for rapidly growing businesses, but great for small businesses!
QuickBooks
QuickBooks has long been a top choice for businesses of all sizes. With its robust income and expense tracking capabilities, QuickBooks allows you to navigate financial management with ease. Its standout feature is its ability to simplify financial tasks, making bookkeeping a breeze for even the most inexperienced users. From invoicing and payment tracking to inventory management and financial reporting, QuickBooks provides a comprehensive platform to keep your finances organized.
QuickBooks Price Plans
Quickbooks has provided its users with 3 price options as the following: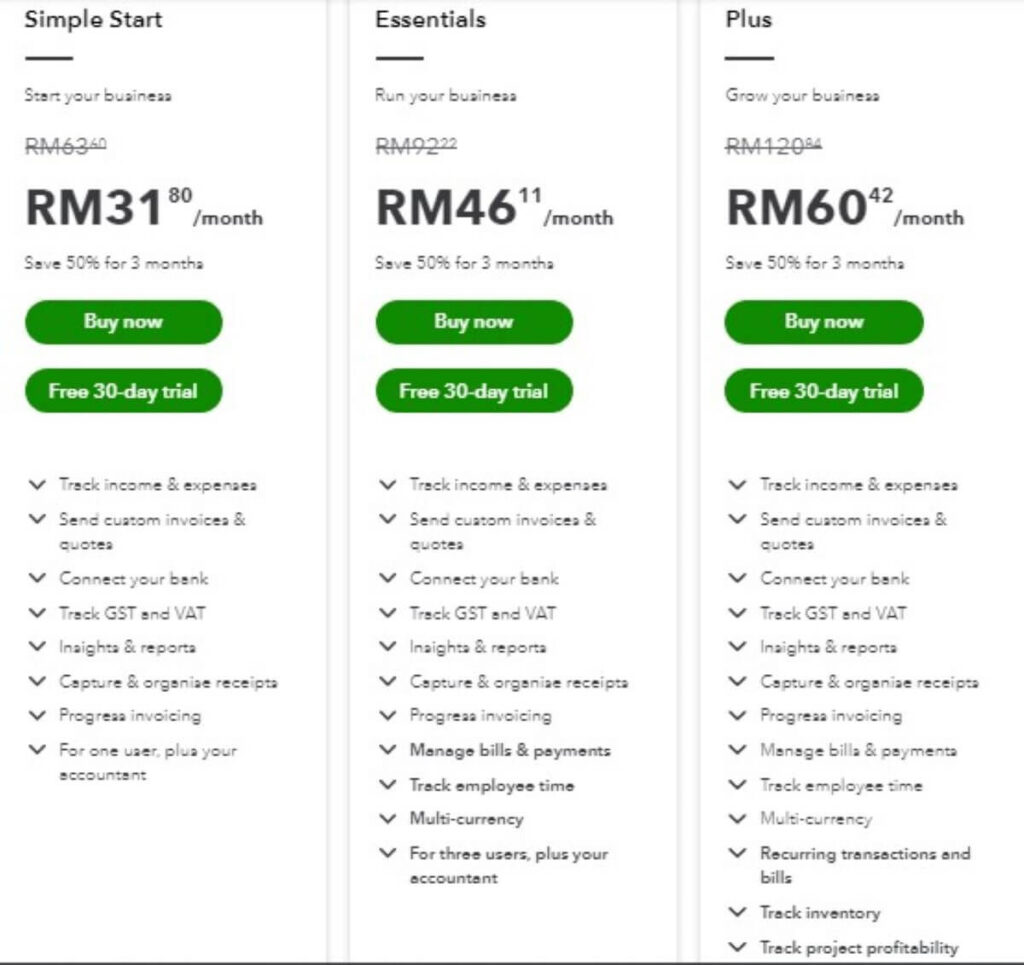 Image source: QuickBooks official website
Quickbooks Pros and Cons
As per usual, let's dive into the benefits of Quickbooks and why people love the software:
QuickBooks Online – cloud-based accessibility, enabling you to manage your finances from anywhere, anytime.
Extensive support network and a vibrant community of users.
User-friendly interface.
Meanwhile, here are some drawbacks to consider:
May be hard for new users as the software's learning curve can be steep.
As your company grow, the price will get pricier, there, might not be suitable for businesses that are looking at a budget-friendly solution.
Sage 300

Sage 300 is part of the esteemed Sage Business Cloud Accounting suite, providing a cloud-based platform that allows businesses to access their financial data securely from anywhere. This feature proves invaluable for modern entrepreneurs who need real-time insights into their business's financial health, no matter where they are. Sage accounting powerful reporting and analytics tools enable you to gain deeper insights into your financial performance, empowering you to make informed decisions to steer your business toward success.
Fun fact! Sage 300 had been recognised as the best ERP software in Malaysia!
Sage 300 Price plan
Again, we couldn't find a fixed price plan for this accounting software on their official website, however, according to a review website, Sage accounting costs around $75 per month.
Regardless, the organization has made sure to include a helpline contact number for anyone interested.
Sage 300 Pros and Cons
There are a few aspects of Sage accounting that you need to consider when setting sail with Sage 300. Some users might find that the software's interface could be more user-friendly, especially for those who are new to accounting software. However, the cost of subscription plans might be on the higher side for smaller businesses with limited budgets.
Accounting software nowadays can be categorized into different sizes of businesses, different accounting software may deliver different functionality. So to simply answer the question, yes – accounting software is suitable for all business sizes just as long as you do your research and find the right one that tailors to your business.
Conclusion
In this blog, we talked about the best accounting software for small businesses which are; FreshBooks, Wave, Zoho Books, Xero, Office Cental, QuickBooks, and Sage300, all offer key features needed by multiple businesses such as expense tracking, inventory management, payroll software, bookkeeping software, reporting features and many more.
Hopefully, this blog helped you to decide on which accounting software to choose, especially for new smaller business owners reading this. Good luck with your business!
Accounting Software FAQ
What features should you look for in accounting software?
There are a few key features or accounting tasks that need to be integrated into accounting software, for example:
Send invoices.
Expense tracking.
Bank reconciliation.
Tax management.
Report finance.
Inventory management.
Integration with other business tools.
Mobile app.
Cloud-based software.
Can I access accounting software from anywhere?
Great accounting software will consider the accessibility of your financial monitor from anywhere, moreover, accounting software is usually made to be cloud-based making it possible to be accessible from anywhere.
Some accounting software is even available as a mobile app, taking accessibility to the next level.
Is accounting software secure?
In today's digital age, one of the key concerns for businesses is the security of their financial data. While there is no foolproof method to guarantee the complete safety of your data, accounting software is generally considered to be secure. Most trusted accounting software programs employ various measures to protect your financial data, such as encryption, secure servers, and firewalls.
Additionally, many software providers offer regular updates to ensure that their software stays current with the latest security protocols. That being said, it is important to ensure that you choose a reputable software provider and follow best practices for data security, such as using strong passwords and not sharing them with anyone.
Is accounting software suitable for all business sizes?
Are there integrations in accounting software?
Accounting software has come a long way over the years. Replaced by advanced computer programs that can automate and streamline a wide range of financial tasks. One of the most useful features of modern accounting software is its ability to integrate with other programs and tools.
Whether you need to connect your accounting software to your payroll service, e-commerce platform, or other business application, integrations make it easier than ever to manage your finances and stay on top of your expenses, revenues, and other important financial data. Best of all, integrations are typically easy to set up and use, so you can start enjoying the benefits of integrated accounting software right away.
Is training required to use accounting software effectively?
Training may be necessary for anyone who wants to use accounting software, this is because there are many features a software can offer, especially if accounting is not something that you are not familiar with. But don't worry! As long as you keep using the software, you are already learning in the process, it shouldn't be a hard task to get to know the software.