As a mother, I know how chaotic life can get, especially when you have little ones. If you're like me, you're always on the lookout for products that can make your life easier and more convenient. That's why, in 2023, I've rounded up the 9 best collapsible wagon for kids, and I can't wait to share them with you!
Picture this: You're at the park, and your child is tired of walking, or you're headed to the beach, and you need a way to transport all those beach toys. Travel stroller is not enough, you need a wagon to be carrying all those toys. It's a game-changer for busy moms like us, offering a convenient and practical solution for transporting kids and their gear.
In this blog post, I'll walk you through the top options on the market, highlighting their features, pros, and cons. So, if you're looking for a reliable wagon to make your outings with the little ones a breeze, keep reading – I've got you covered!
What are Collapsible Wagons?
Collapsible wagons are a lifesaver for busy moms like us. Imagine having a versatile, kid-friendly wagon that can carry everything from your little one's essentials to your beach gear, and then easily fold up when you're done.
These ingenious wagons are designed with convenience in mind, making family outings and trips to the park a whole lot smoother.
The magic lies in their ability to collapse or fold into a compact form when not in use. This means you can easily stow them in the trunk of your car, under a stroller, or in a closet, taking up minimal space.
When you're ready to roll, they unfold effortlessly, transforming into a sturdy, four-wheeled vehicle that can handle the weight of your child and their belongings.
The Benefits of Collapsible Wagons
They typically weigh between 10-20 pounds and can be folded up into a small size that can easily fit in the trunk of a car or in the closet of an apartment. This makes it easy for anyone to take their wagon with them on trips or to use it around town without having to worry about storage space.
Most models feature a steel frame that is powder coated for extra durability, as well as heavy-duty fabric that can withstand wear and tear. This ensures that your wagon will be able to handle whatever you throw at it, whether it's carrying groceries or taking the kids out for a day at the park.
They are also very easy to maneuver, even when fully loaded with cargo. The wheels are usually designed with large treads which provide extra grip on slippery surfaces, while the handle is usually adjustable so you can find the perfect height for pushing or pulling your wagon. Additionally, most models come equipped with brakes so you can stop quickly if needed.
Besides just transporting cargo from one place to another. Some models come equipped with cup holders so you can use them as a cooler when camping or picnicking outdoors, while others have removable sides so they can be used as beach chairs or even baby strollers!
Best Collapsible Wagon for Kids
The Seina Folding Utility Beach Wagon is a top choice for moms who love a day at the beach or picnics in the park.
Key Features
The Seina Folding Utility Beach Wagon boasts an impressive carrying capacity. It can handle all your beach essentials, from coolers and umbrellas to beach toys and towels. This wagon is designed for quick and hassle-free setup and takedown. Its collapsible feature makes it a breeze to transport and store. With sturdy, all-terrain wheels, this wagon can tackle various surfaces, making it perfect for the beach, park, or even a day at the farmer's market. The convenience doesn't end there. Seina has added two cup holders to keep your beverages secure, preventing spills during your outdoor adventures.
It's Best in:
Spacious interior, which can easily fit all their kids' beach gear and snacks.
The all-terrain wheels are a hit, making it easy to pull across sand, grass, and gravel.
The built-in cup holders are a thoughtful addition, ensuring your drinks stay upright and preventing messes.
It's Lacking in:
Some users have mentioned that the wagon can be a bit challenging to maneuver when fully loaded, especially on uneven terrain.
It might not be as compact when folded as some other wagons, which can be an issue for those with limited storage space.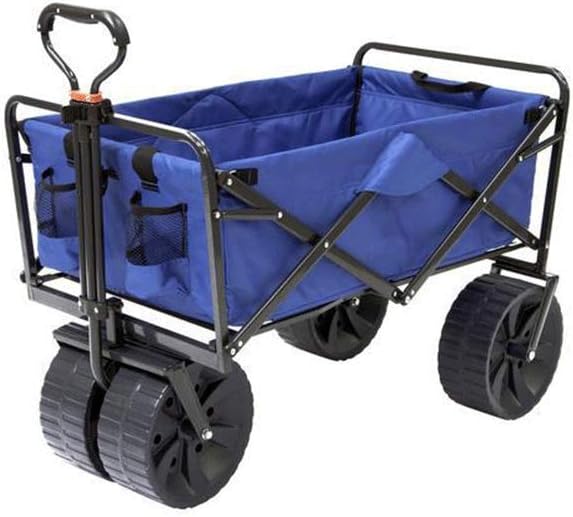 When it comes to the best options available in 2023, the Mac Sports Heavy Duty Steel Collapsible Wagon certainly stands out.
Key Features
One of its key features is its heavy-duty steel frame, which ensures durability and long-lasting performance. This means that even if your little ones are rough with their toys, this wagon can handle it all.
Its collapsible design makes it incredibly convenient for storage and transportation, allowing you to easily take it along on outings or fold it up neatly when not in use.
The spacious interior provides ample room for your children and their belongings. Whether you're heading to the park to play family games, or attending outdoor events, this wagon can comfortably accommodate your little adventurers.
Additionally, the Mac Sports Heavy Duty Steel Collapsible Wagon is equipped with sturdy all-terrain wheels, making it suitable for various surfaces and ensuring a smooth and effortless ride.
It's Best in:
One of the pros that mothers appreciate about this wagon is its versatility. It can be used for multiple purposes, such as carrying groceries, picnic essentials, or even functioning as a makeshift stroller for tired little feet. Another advantage is that it comes with a built-in adjustable handle, allowing moms of different heights to pull the wagon comfortably.
It's Lacking in:
However, it's important to mention a potential con that some people might have with this wagon. Due to its heavy-duty nature, it can be slightly heavier compared to other collapsible wagons on the market. While this might not be a major issue for most, it's worth considering if you often need to lift and carry the wagon for longer distances.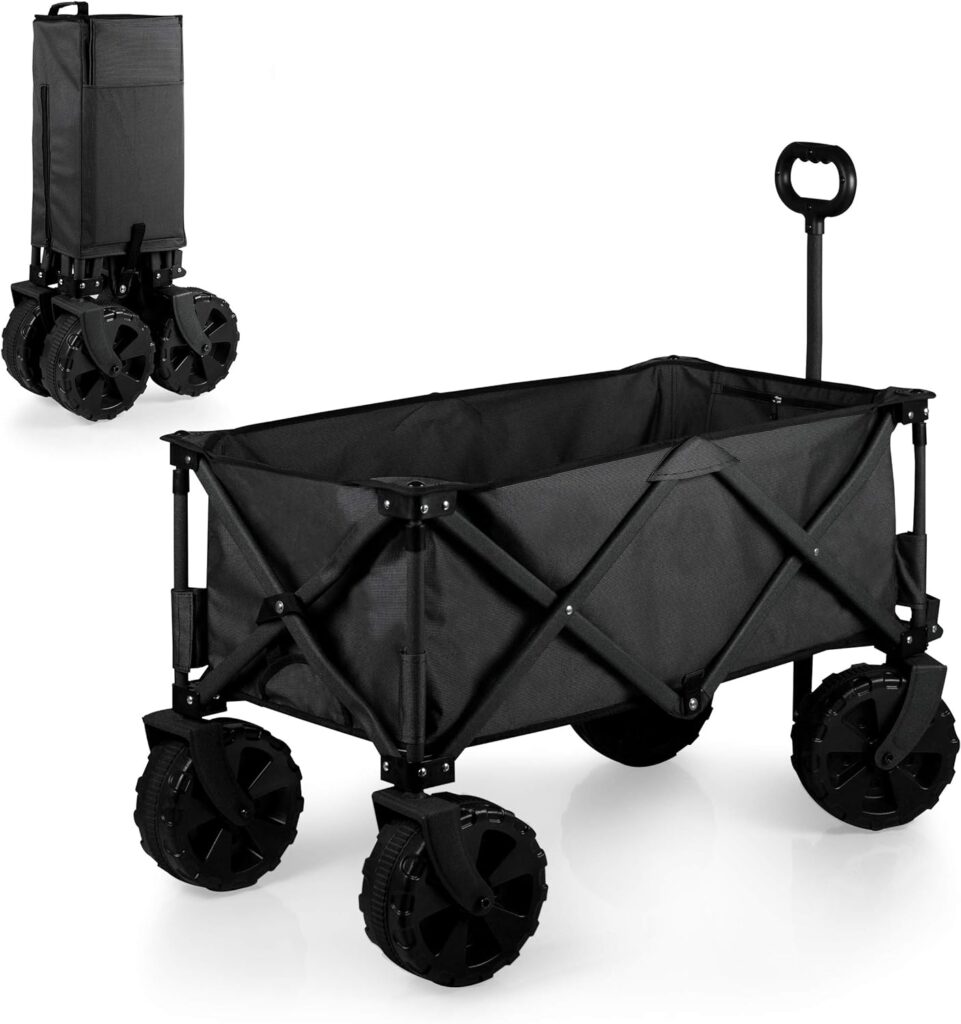 Key Features
The ONIVA Adventure Terrain Portable Utility Wagon is known for its robust construction. It can handle heavy loads and rough terrain without a hitch, making it a great choice for adventurous moms. This wagon features oversized, all-terrain wheels that can smoothly roll over sand, gravel, or uneven surfaces. You won't have to struggle to move it, even when it's fully loaded. Cleaning up after a fun day out is a breeze with the detachable bed liner. Simply remove and wash it, and your wagon is ready for the next adventure. The adjustable handle makes pulling the wagon comfortable for moms of all heights.
It's Best in:
The ONIVA Adventure Terrain Wagon's durability is highly praised, as it can handle rugged outdoor conditions with ease.
The oversized wheels and detachable bed liner make it incredibly versatile, and suitable for various outdoor activities.
Moms appreciate the telescoping handle, as it provides a comfortable grip, reducing strain on the back.
It's Lacking in:
Some users find that while the wagon is exceptionally sturdy, it may not fold as compactly as they'd prefer for storage.
The price point is on the higher side compared to some other collapsible wagons.
Key Features
One such product that has caught my attention recently is the Sekey Collapsible Foldable Wagon. This wagon stands out due to its impressive design and functionality. Its wide wheels provide exceptional stability and maneuverability, making it perfect for various terrains, whether you're at the beach or the park. It's impressive capacity is also one noticable feature to include, it can carry up to 220lbs and even up to 440lbs in some versions. This means it's not just limited to carrying your little ones, but also their toys, picnic items, groceries, and more.
It's Best in:
The wagon is also praised for its easy-to-use nature, with users noting how simple it is to open, fold up, and keep in place. Plus, it is just so versatile.
It's Lacking in:
However, like all products, there are a few cons to consider. While many appreciate the wagon's high weight capacity, this also means it can be quite heavy when fully loaded. For some mothers, this could make it a bit challenging to pull around, especially over longer distances or uphill.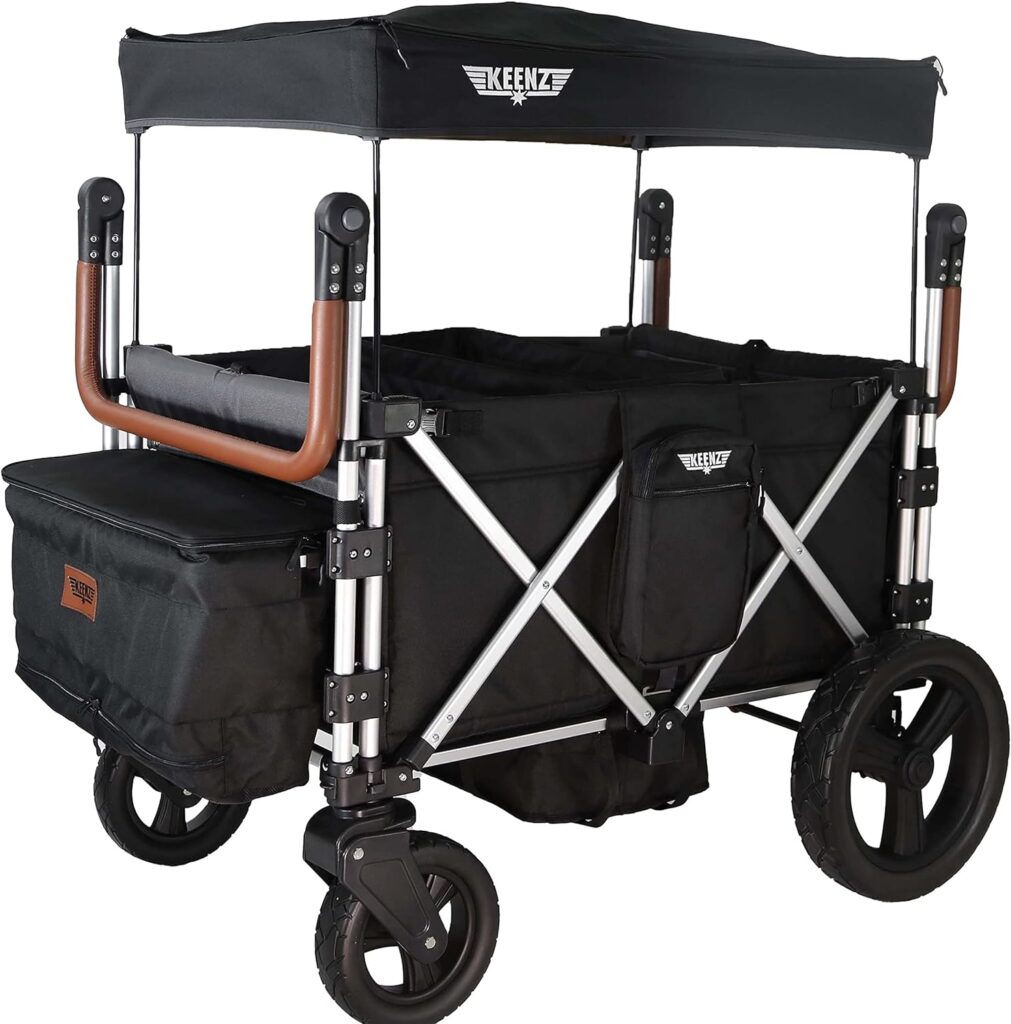 The Keenz 7S+ Ultimate 4-Passenger Baby Toddler Wheeled Stroller Wagon is a fantastic choice for moms with multiple kids or those who frequently host playdates.
Key Features
The Keenz 7S+ is designed to comfortably accommodate up to four passengers (or children). Whether you have multiple little ones or are going on a playdate, this wagon has you covered. Moreover, it protects your kids from the sun or light rain with the detachable canopy. It's a thoughtful feature for added comfort during your outings.
The 5-point safety harness and padded seats provide peace of mind, ensuring your kids are secure and comfortable during the ride. You'll find plenty of room for your essentials with storage pockets, cup holders, and a rear storage compartment.
It's Best in:
The spacious seating and safety features make the Keenz 7S+ a favorite for moms with multiple children or for those who frequently host playdates.
The removable canopy adds extra protection and comfort, which is appreciated during sunny or drizzly days.
The wagon's storage options come in handy for carrying everything you need, from snacks to toys.
It's Lacking in:
Due to its size, the Keenz 7S+ may not be the most convenient option for moms with only one child or for those who need a more compact wagon for storage.
Its price point can be a bit steep, but for moms in need of a 4-passenger stroller wagon, it's often considered worth the investment.
Key Features
The Radio Flyer 3-In-1 EZ Folding Wagon is a true multitasker. It can be used as a two-rider seating wagon, a bench seating wagon, or as a flatbed for hauling cargo. This wagon includes seatbelts for added safety when used as a two-rider wagon, ensuring your little ones stay securely in place.
The adjustable handle makes it easy to pull, and its one-hand fold feature allows for quick and hassle-free storage. The wagon rolls smoothly on durable, rubber tires, ensuring stability and a comfortable ride for your kids.
It's Best in:
The Radio Flyer 3-In-1 EZ Folding Wagon's versatility makes it a hit with moms. It adapts to your needs, whether you're going on a family stroll or need a wagon for carrying groceries and more.
Seatbelts provide added peace of mind when transporting your little ones, ensuring their safety.
Its easy one-hand fold design and telescoping handle make it convenient to use and store.
It's Lacking in:
Some users find that the wagon can be a bit smaller than other options, which may not be ideal for larger families or those with multiple kids.
It may not be the best choice for heavy-duty hauling due to its size and load capacity.
The Hauck Eco Wagon is an eco-conscious and practical choice for moms who want a wagon that aligns with their sustainable values.
Key Features
The Hauck Eco Wagon lives up to its name with an eco-friendly, sustainable build. It's made from recycled materials, which is a fantastic choice for environmentally-conscious moms. This wagon offers a spacious interior, making it ideal for transporting groceries, toys, or even your furry family member. It's a versatile wagon for various uses.
It comes with a 3-point safety harness to ensure your child's security during rides, making it a safe and reliable option for family outings. The wagon's foldable design and compact storage make it convenient for moms with limited storage space.
It's Best in:
The Hauck Eco Wagon's eco-friendly construction resonates with moms who prioritize sustainable choices for their families and the planet.
Its large cargo space and safety harness provide a practical and safe option for carrying both kids and items.
The foldable design is perfect for those who need a wagon that doesn't take up too much storage space.
It's Lacking in:
Some users find that the wagon's wheels might not be as rugged as those of other wagons, making it less suitable for rough terrains.
The price can be a bit higher compared to other collapsible wagons, but the eco-friendly aspect may justify the investment for some moms.
I want to introduce you to the WONDERFOLD W1 Original Double Stroller Wagon. It's not just a wagon, but a double stroller as well, making it a versatile choice for families with more than one child.
Key Features
One of its key features is the smooth maneuverability. Many mothers have praised how smoothly this wagon moves, eliminating the struggle often associated with pushing or pulling traditional wagons. This wagon is also easily foldable, and unfolding it is just as simple, which is a huge plus for us busy moms.
It's Best in:
The W1 Original Double Stroller Wagon is designed with a steel frame, able to support up to 180 lbs. This means it can comfortably accommodate your kids and their essentials. What's more, it comes with a removable UV-protected canopy, offering ultimate sun protection during those sunny outdoor adventures.
It's Lacking in:
However, compared to other W series wagons, the W1 Original has fewer features. It doesn't come with seats, cupholders, snack trays, and has limited storage. But on the bright side, it does feature side saddle pockets, ideal for snacks, toys, or even your cell phone.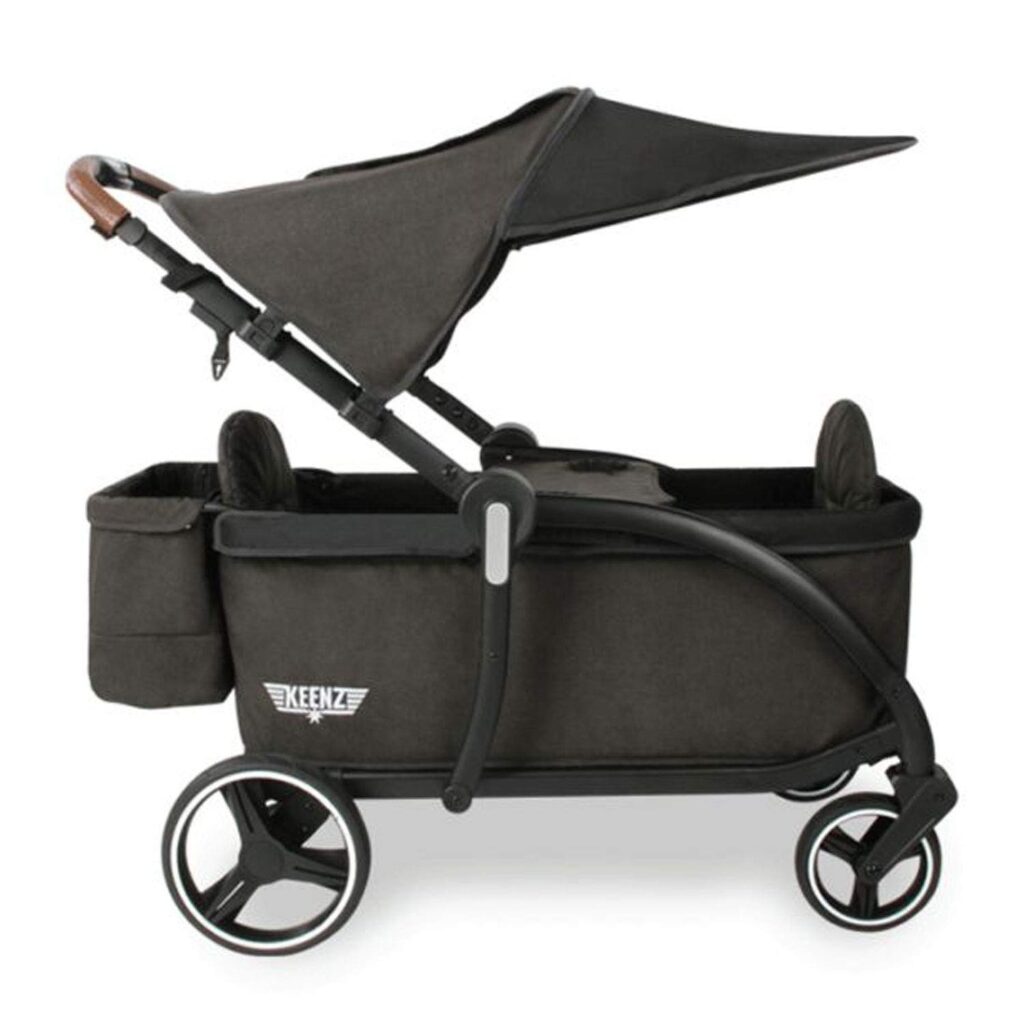 I understand that we need products that are not just safe and convenient, but also versatile and accommodating for our little ones. This is where the Keenz Class Push Pull Baby Toddler Kids Stroller Wagon truly shines. This multi-functional stroller wagon is designed to make our lives easier and our outings more enjoyable.
Key Features
What sets the Keenz Class Stroller Wagon apart from others is its unique push-pull function, offering you the flexibility to either push like a stroller or pull like a wagon. It's also equipped with one-touch brakes for quick and easy stopping, which is crucial when you're out and about with energetic kids.
It's Best in:
Its lightweight design and push-button folding mechanism. This makes it incredibly easy to transport and store, a godsend for us moms always on the go. It also comes with an activity tray, storage bin, and removable canopy, providing convenience and protection for your children.
It's Lacking in:
However, there are a couple of drawbacks to consider. Some mothers have noted that despite its lightweight design, the wagon can be a bit bulky when folded, which might take up more trunk space than expected. Additionally, the price point is higher compared to some other wagons on the market, so it may not fit within everyone's budget.
Conclusion
When it comes to choosing the perfect wagon for your family, there are plenty of options available in the market. Each offers its unique features and benefits, making it essential to consider your specific needs before making a purchase. Whether you're looking for a budget-friendly option, an eco-conscious choice, or a versatile stroller-wagon hybrid, there is something out there for every mom and family. Consider your lifestyle, how you plan to use the wagon, and the features that are most important to you before making a decision. With the right wagon, outings with your little ones will be a breeze! Happy shopping!
FAQ
1. Are collapsible wagons safe for children?
Yes, collapsible wagons designed for kids are generally safe when used according to the manufacturer's guidelines. Look for wagons that come with safety features like seatbelts and harnesses to ensure your child's security during rides.
2. Can I use a collapsible wagon for kids at the beach?
Many collapsible wagons are designed to handle various terrains, including sandy beaches. Look for wagons with all-terrain wheels for the best beach performance, as they provide stability and ease of movement on sand.
3. What is the weight capacity of these wagons?
The weight capacity varies depending on the brand and model of the collapsible wagon. It's essential to check the specific product's details, as some wagons can support up to 150 pounds, while others are designed for lighter loads.
4. How do I clean and maintain a collapsible wagon for kids?
Cleaning and maintaining your collapsible wagon is relatively simple. Most wagons have removable and washable fabric liners. You can also wipe down the frame with a damp cloth. It's a good idea to store your wagon in a cool, dry place when not in use to prolong its lifespan and prevent rust or damage.