Hey you, yes you reading this sentence, I know why you're here today! I mean obviously, we all read the title. I bet you're tired of endlessly searching for the perfect lip balm that soothes your sensitive chapped lips. As a mummy who's always on the go and has no time to think too long about my appearance, lip balms have always been my best buddies. In the past, I've gone through too many brands of lip balms, and let me tell you, I know something about them.
That's why I'm excited to share with you my top 9 lip balm for sensitive lips in 2023. Whether you're dealing with chapped lips from the ever-changing weather or simply need some extra TLC for your delicate pout, from lip tint to vegan lip balm, I've got you covered. Say goodbye to dry, cracked lips for good! Your smile deserves some pampering, and I'm here to help you find the perfect lip balm that your sensitive lips will adore.
What are Lip Balms?
Lip balms are a type of moisturizer that is specifically designed to hydrate and protect the lips. They come in various forms such as sticks, pots, tubes, or even rollerball applicators. No matter what form they take, their main purpose is to provide nourishment and protection for our delicate lips.
But not all lip balms are created equal. Some may contain harsh ingredients that can actually do more harm than good, especially for those with sensitive lips. That's why it's important to choose a lip balm that is specifically made for sensitive lips and has gentle yet effective ingredients.
Why Lip Balms Are Good for Sensitive Lips?
Our lips are one of the most delicate parts of our body. They have thin skin and lack oil glands (this is why lip oil also exists), making them more prone to dryness and sensitivity. That's why using a lip balm is essential for maintaining healthy and moisturized lips, especially for those with sensitive lips. Lip balms provide a protective barrier that helps lock in moisture, keeping our lips hydrated and preventing them from becoming dry, cracked, or chapped.
Picking the Best Lip balm for Sensitive Lips
"Okay, so I just need to buy a lip balm for my chapped lips, and that's it, right?"
Yup, that's correct, but there are so many lip balms out there, if I were you, I would question what best lip balms to get. This is where you start looking at the ingredients, just because it's expensive doesn't mean it will be suitable for you. Heck, why would you spend so much on a fancy lip balm when you can spend less for something better?!
Here are useful tips you can use when purchasing lip balms:
Opt for fragrance-free lip balms.
Read the ingredients – the more it contains organic ingredients (petroleum jelly, coconut oil, cocoa butter, etc.), the better it is.
Avoid harsh ingredients that will dry lips.
Opt for lip balms with SPF protection.
Or if you're still confused and think this is all too much work, you can always make homemade lip oil that is just as hydrating as lip balm, you can save money!
Lip Balm for Sensitive Lips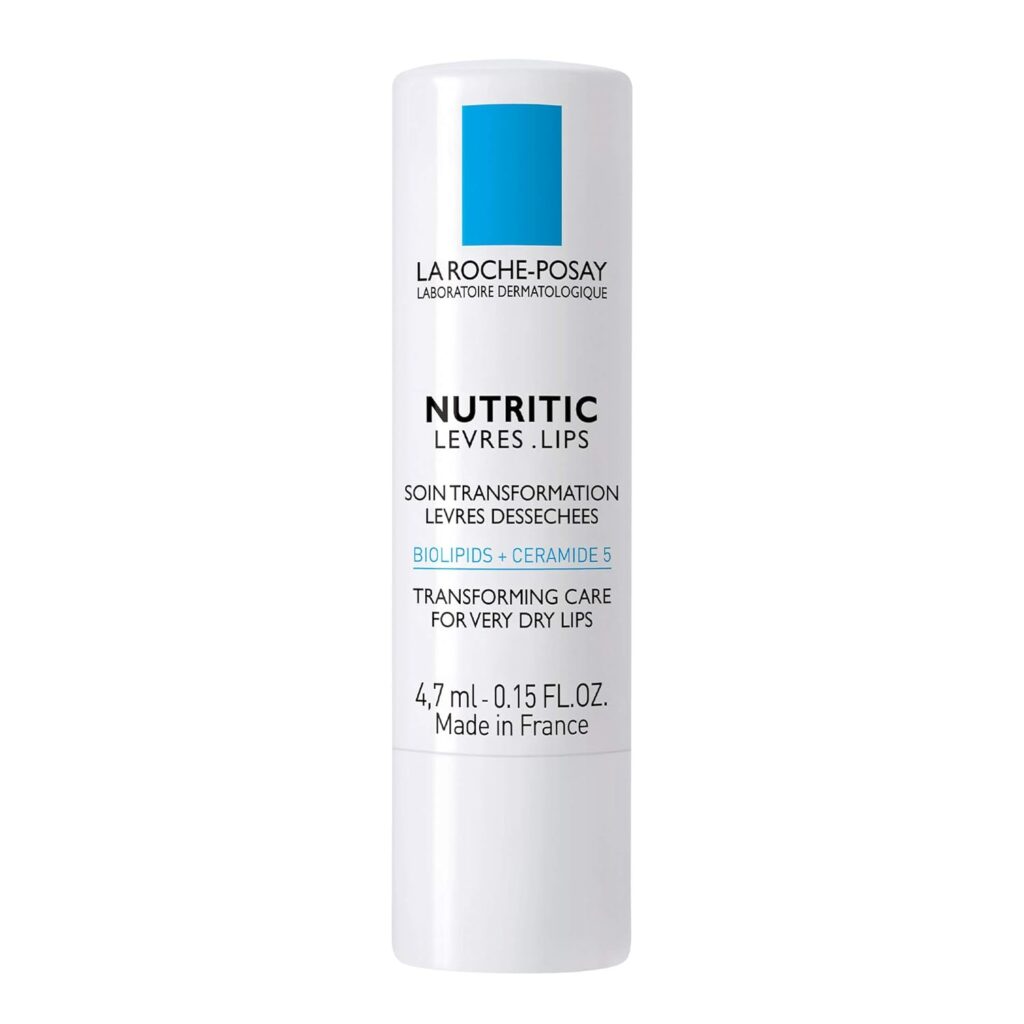 La Roche-Posay Nutritic Lip Balm is a top choice for those seeking intense hydration and gentle care for sensitive lips. Might I add, not only lips, the brand is just that good that it is included in the list of top 10 skincare brand.
Standout Characteristics
La Roche-Posay's Nutritic Lip Balm is renowned for its intense hydrating properties. It's like a soothing drink for parched lips, making it perfect for those with sensitive and dry lips. This lip balm is packed with nourishing ingredients, such as shea butter and essential lipids, which work together to provide deep moisture and repair your lips, leaving them smooth and supple.
Ideal for those who are sensitive to scents or prefer a fragrance-free product, this balm won't overwhelm your senses with any overpowering fragrance.
Advantages:
Effective Hydration
Gentle on Sensitive Skin
Compact and Convenient
It's Lacking In:
Some users find that La Roche-Posay products can be on the pricier side, but they often justify it by the product's effectiveness. It's worth noting that this lip balm doesn't contain SPF protection, so if sun protection is a priority for you, you might need an additional product.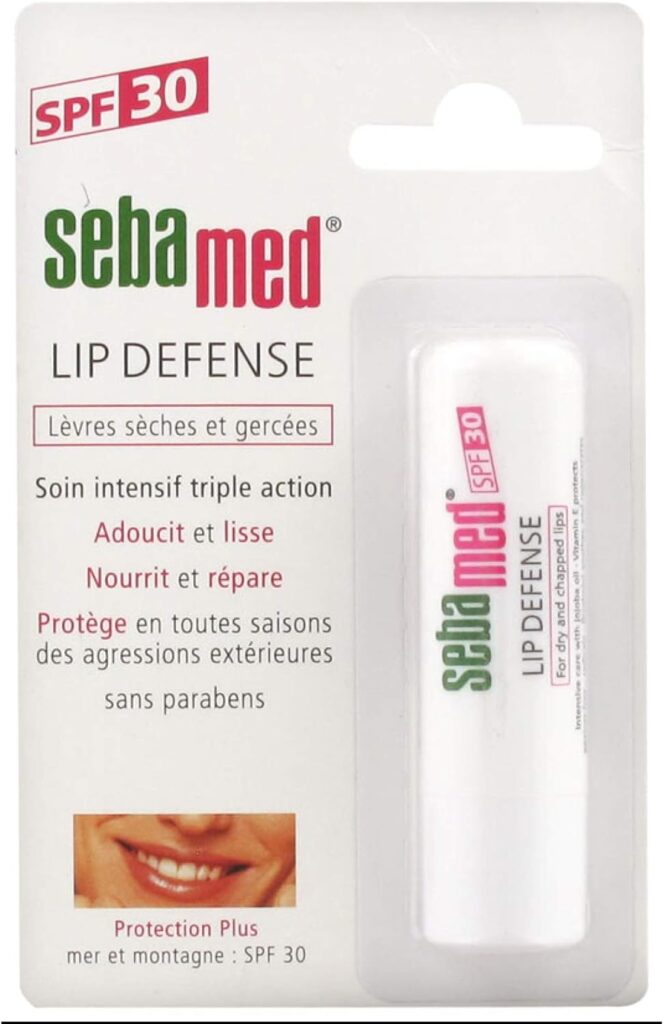 Standout Characteristics
Sebamed Lip Defence packs the power of Vitamin E, a potent antioxidant that helps protect your lips from environmental stressors while promoting healthy, soft lips. Moms concerned about potentially harmful additives can rest easy, as this lip balm is paraben-free, focusing on what's essential for lip care. Plus, the combination of natural ingredients like beeswax and jojoba oil provides a protective barrier for your lips, sealing in moisture and preventing them from drying out.
Advantages:
Sun Protection: The SPF30 in this lip balm makes it an excellent choice for outdoor activities. Users appreciate the added protection against harmful UV rays.
Moisture Lock: Sebamed Lip Defence excels in keeping lips well-hydrated and soft. It's great for those who spend a lot of time in dry or windy conditions.
Skin Compatibility: Sebamed's focus on skin-friendly products is a big draw. Users with sensitive skin appreciate that it doesn't cause irritation or adverse reactions.
It's Lacking In:
Some users may find the texture slightly thicker than other lip balms, which can take a little getting used to. While many prefer the lack of a strong scent, those who enjoy fragrance might find this lip balm a bit lacking in that department.
Standout Characteristics
One lip balm that has caught my attention is Burt's Bees Ultra Conditioning Lip Balm. This Burt's Bees lip balm stands out as it's crafted with nature's finest ingredients like Kokum Butter, Shea Butters, and antioxidant-rich Marula Oil, which are known to replenish skin beautifully. Burt's Bees are also free of parabens, phthalates, petrolatum, or SLS, making it a clear choice for our little ones.
Advantages:
The product is clinically proven to offer 4 hours of long-lasting moisturization. Many users have praised it for keeping their lips moisturized, and it has become a staple in many households. Plus, it's 100% natural origin to rejuvenate and beautify lips, even in cold, dry conditions.
It's Lacking In:
However, not everyone is completely satisfied. Some users have reported that the balm just sits on their lips without providing much relief for dry chapped lips. Others have mentioned that while it does provide moisture, it only lasts for about two hours if you have a habit of licking your lips.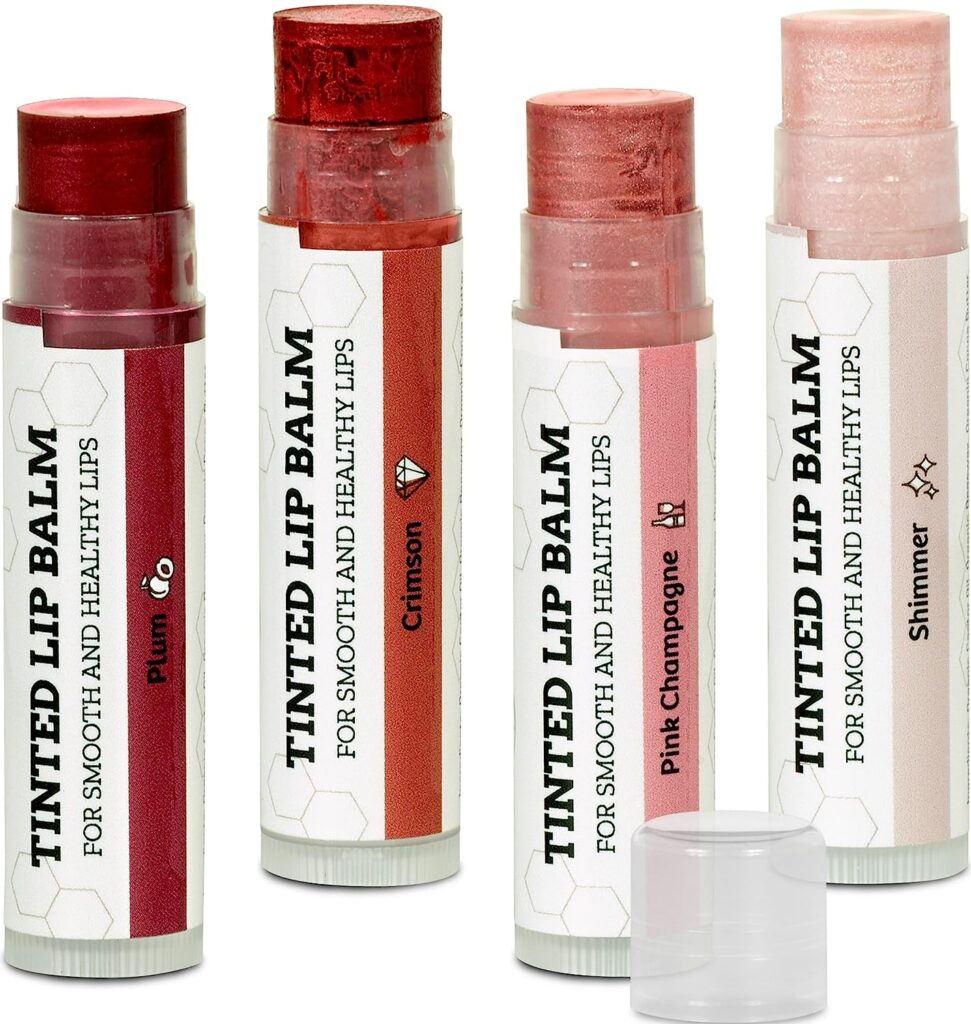 Standout Characteristics
The Tinted Lip Balm by Earth's Daughter is probably the best-tinted lip balm for sensitive skin. This lip balm is unique in its own right as it's made with natural and organic ingredients. It features vegan waxes, coconut oil, cocoa butter, and vitamin E, which not only nourishes but also adds a subtle tint to your lips.
Advantages:
Cruelty-free.
Comes in a 4-pack of assorted colors, including Shimmer, Pink Champagne, Plum, and Crimson, providing options to match different moods and outfits.
This tinted lip balm offers up to 8 hours of moisture and hydration, which is a blessing, especially during harsh weather conditions.
It's Lacking In:
However, as with all products, it's not without its drawbacks. While many users have praised the product for its moisturizing properties and beautiful tints, some have found the colors to be too subtle or the product to feel a bit heavy on their lips.
Standout Characteristics
Kiehl's Lip Balm is celebrated for its ability to deliver intense, long-lasting moisture to your lips. If you're battling dryness, this could be your go-to solution. With a blend of soothing ingredients like squalane, pure lanolin, and sweet almond oil, this lip balm helps repair and protect your lips from harsh weather conditions.
Let's not forget, Kiehl's offers a range of flavors to choose from, so you can pamper your lips with a taste that suits your preference.
Advantages:
Moisturize longer: A reliable choice for those who want a long-lasting solution.
Quick Absorption: The balm absorbs quickly, making it an excellent choice for busy moms who don't have time to wait for their lip balm to set in.
Flavor Variety: Kiehl's offers an array of flavors, from classic unscented to delightful scents like cranberry, mango, and mint. This variety adds a fun and personalized touch to lip care.
It's Lacking In:
Kiehl's products are often on the higher end of the price spectrum, which can be a drawback for budget-conscious consumers. While flavor variety is appreciated, some users find certain scents to be slightly overpowering.
Standout Characteristics
One lip balm that has proven effective is the CeraVe Healing Ointment. What sets CeraVe Healing Ointment apart is its unique formulation. It contains an occlusive ingredient that creates a protective barrier on your lips to seal in moisture. Besides, it's also rich in hydrating ingredients, including hyaluronic acid, a potent moisturizer known for its ability to draw and hold water to keep our lips well-hydrated.
Advantages:
Dermatologist Certified: This ointment is developed with the guidance of a board-certified dermatologist, ensuring its suitability for sensitive skin.
Lock-in moisture: Beneficial during winter months when our lips tend to dry out more.
Hyaluronic Acid.
It's Lacking In:
Despite its many benefits, the CeraVe Healing Ointment does have a couple of downsides. Some users have found the texture a bit too thick and greasy, making it uncomfortable to wear throughout the day. Others have mentioned that it leaves a slight white cast on the lips.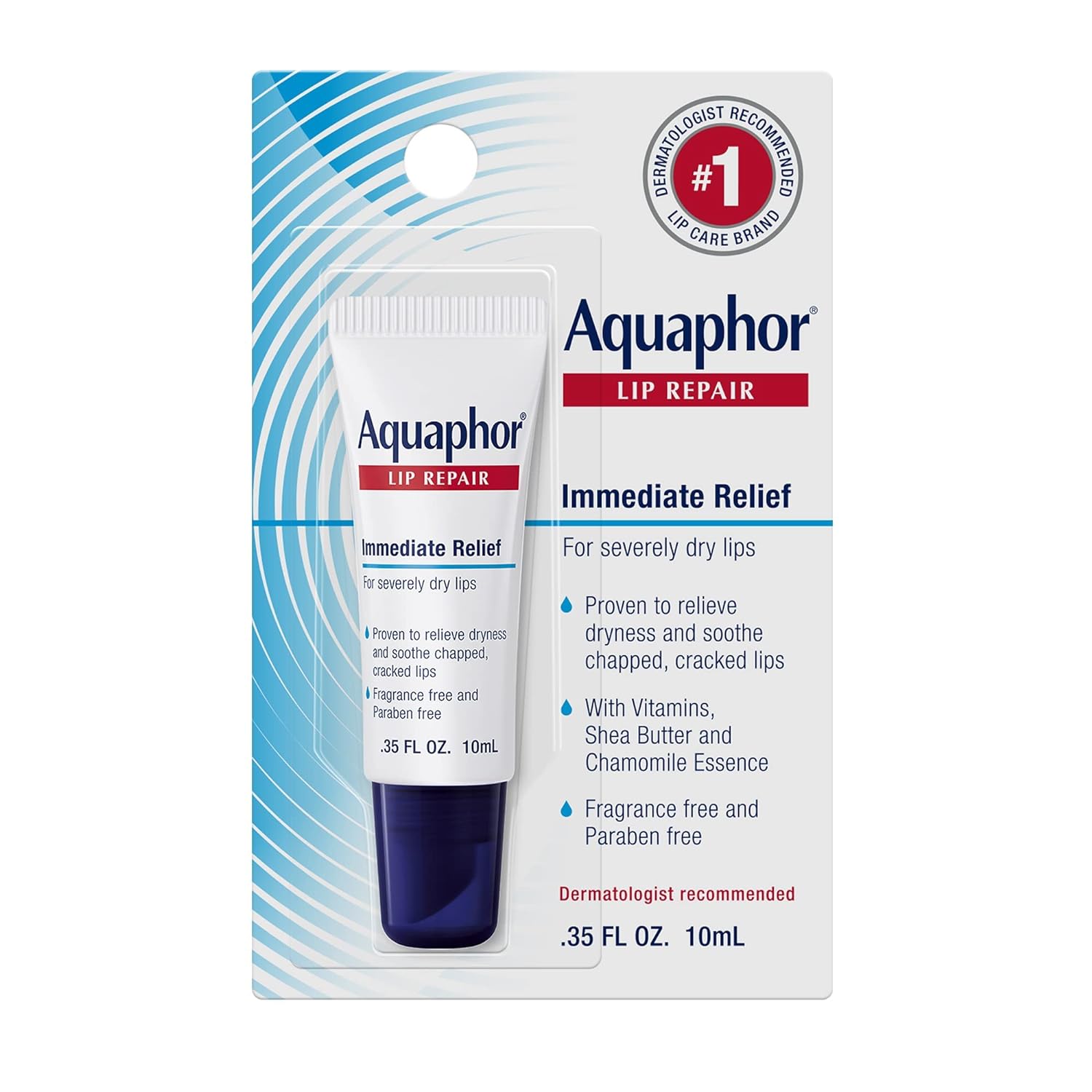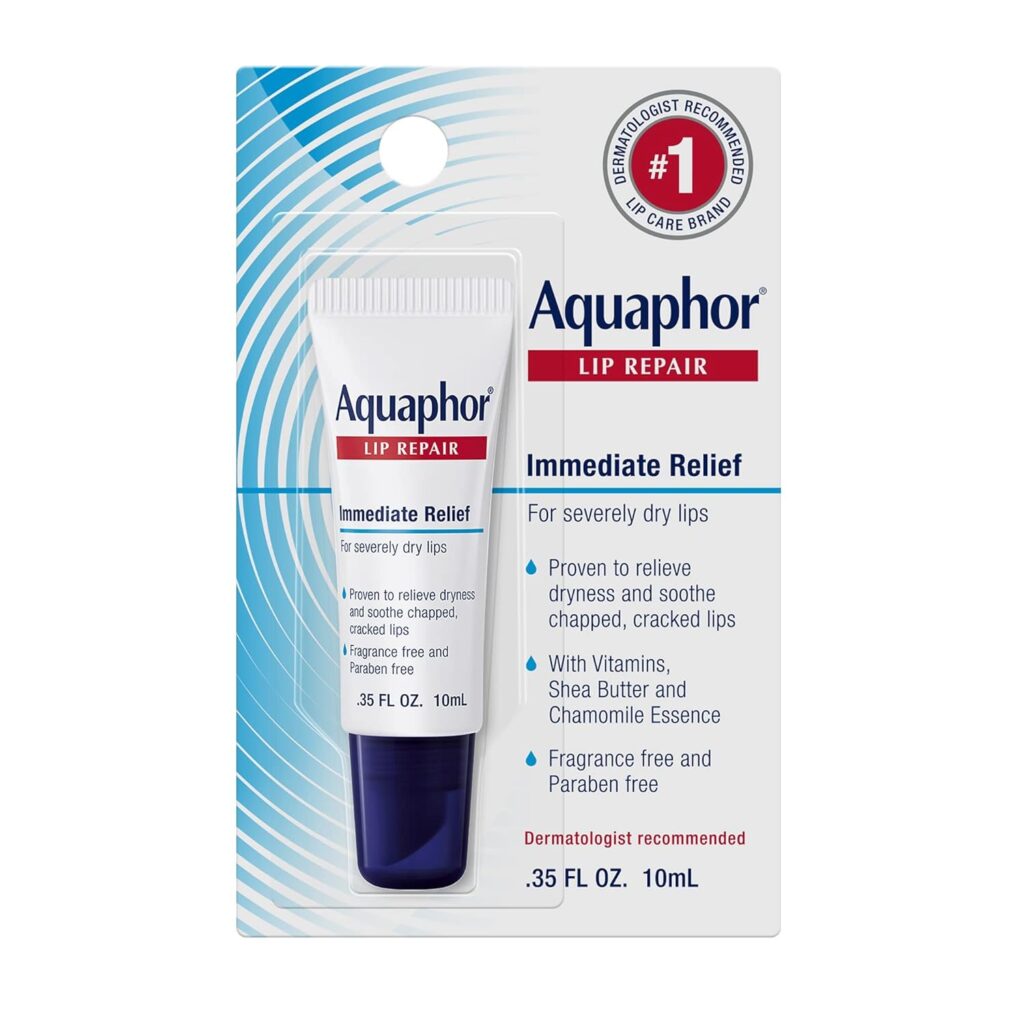 Standout Characteristics
Aquaphor's Lip Repair Ointment is more than just a lip balm; it's a healing ointment. It's formulated to repair and protect severely dry, cracked, or chapped lips. This product is also backed by clinical testing, which provides users with extra assurance of its effectiveness in restoring and maintaining healthy lips.
Aquaphor's ointment is designed to be gentle, making it suitable for even the most sensitive of lips. It's free of fragrances, preservatives, and other potential irritants.
Advantages:
Lip Treatment: Many users turn to Aquaphor Lip Repair for severe lip issues, such as extreme dryness, chapping, and even minor lip irritations. It's often considered a lifesaver in these situations.
Versatile: Besides using it as a lip balm, this ointment is highly versatile and can be applied to other dry or sensitive areas of the skin, making it a multipurpose addition to your skincare tips.
Budget-Friendly.
It's Lacking In:
Some users find the ointment's texture to be thicker compared to traditional lip balms, which might take some getting used to. For those who prefer flavored lip products, Aquaphor's ointment might feel somewhat plain.
Standout Characteristics
What sets Dr. Dan's CortiBalm apart is its active ingredient, 1% hydrocortisone, which has anti-inflammatory properties and can be particularly beneficial for individuals with severely dry, chapped, or sensitive lips. This lip balm is hypoallergenic and free from common irritants, making it suitable for those with sensitive skin or those who've had allergies to other lip products. CortiBalm is designed to heal and moisturize your lips, helping them recover from various lip issues.
Advantages:
Effective Healing: Users with persistent lip problems often turn to Dr. Dan's CortiBalm for relief. Hydrocortisone can work wonders on severely chapped or irritated lips.
Hypoallergenic: This lip balm is celebrated for being hypoallergenic, making it a safe choice for users who have experienced allergic reactions to other lip products.
Dermatologist-Recommended.
It's Lacking In:
Hydrocortisone Sensitivity: While hydrocortisone is a major benefit for many, there are individuals who may be sensitive to this ingredient and should use it with caution.
Standout Characteristics
What makes L'Occitane Ultra-Rich Lip Balm Stick unique is its ultra-rich formulation. It is enriched with 10% shea butter, a potent ingredient known for its moisturizing, nourishing, and protecting properties. This lip balm doesn't just provide temporary relief, but it also repairs dry lips, leaving them soft and supple.
Advantages:
Many users have praised this lip balm for its non-greasy texture and its ability to provide lots of moisture without any residue. It also has a pleasant, subtle scent that's appealing to many.
Lightweight: Some users have mentioned that despite its rich ingredients, it feels weightless on the lips, making it perfect for everyday wear.
Long-lasting: A little goes a long way with this lip balm, and it stays put for hours without needing frequent reapplication.
It's Lacking In:
However, no product is perfect, and the L'Occitane Ultra-Rich Lip Balm Stick is no exception. Some users have mentioned that it's just a plain lip balm with no additional promises except for moisturized lips. Others have found it a bit pricey for a lip balm.
Summary
There are many options to choose from when it comes to lip balms, and the best product for you will depend on your specific needs and preferences. It's essential to pay attention to the ingredients used in a lip balm and opt for those that are gentle, nourishing, and suitable for your skin type. Whether you're looking for intense moisturizing, healing properties, or versatility, the products mentioned above are excellent options to consider.
Say goodbye to dry, chapped lips and hello to soft, healthy lips with the help of these top lip balm picks! Remember to choose a lip balm that works best for you and don't be afraid to try out different ones until you find your perfect match.