If writing assignments has always been your favorite homework or you just have good typing skills and want to make money without investing a dime, then this is the right post for you. Here, we have compiled a list of the top 7 online typing jobs that you can do from home without having to invest any money.
Read on to find out more!
Best Typing Jobs Without Investment
1. Data Entry
Data entry involves entering data into spreadsheets, databases, or other software applications.
It's one of the best typing jobs without investment available and requires basic computer skills as well as good keyboarding speed.
Companies typically pay per hour or per piece for data entry work.
2. Transcription
Transcription is a form of typing job where you listen to audio recordings such as lectures, speeches, interviews, and more, and type out what was said in the recording accurately in a written format.
This job requires excellent listening skills as well as quick typing accuracy.
3. Copywriting/Copyediting
Both copywriting and copyediting involve writing content for websites or articles for publications.
Copywriting involves creating unique content from scratch while copyediting involves editing existing content for grammar and spelling errors or improving upon it in some way if needed.
If you have a knack for writing, this could be the perfect job for you!
4. Online Tutor/Teacher
With the rise of online education platforms like Pluralsight and Coursera, there has been an increased demand for online tutors or teachers who can help students learn specific topics via video conferencing tools like Zoom or Skype.
You'll need to be knowledgeable about your topic area to tutor effectively but this job also offers flexible hours so it's perfect if you are looking for something part-time!
5. Medical Transcriptionist
Medical transcriptionists are responsible for transcribing doctors' notes from medical reports into written records that can be used by physicians when referring back to past patient treatments or diagnoses.
This job requires knowledge of medical terminology as well as excellent listening skills and fast typing speed since medical documents are often lengthy and contain complex language that must be accurately transcribed into written documents quickly.
6. Blogging
Blogging is an excellent way to make income online to write articles on various topics that readers will find interesting or informative. The best bloggers make sure their posts are optimized with keywords so they show up higher on search engines.
This helps them get more views which leads to higher ad revenues or affiliate income if they have those set up on their blog.
7. Typing Captcha
This is another best typing job without investment that requires good typing speed and accuracy. The job involves typing out letters or numbers from a captcha image to prove the user is human and not a bot. Companies usually pay per hour for this work, but it can be tedious since it often involves long periods without any breaks.
What qualifications are required for Typing Jobs?
The qualifications for best typing jobs without investment typically involve basic computer skills, internet access, and a good typing speed. Some clients may also require you to have previous data entry experience or knowledge of specific software programs.
Typing job requirements: Basic computer skills, internet access, and a good typing speed.
How much can you earn from Typing jobs?
If you're interested in earning money online, typing jobs are a great option to consider.
Many companies and individuals are in need of skilled typists to complete various tasks, such as data entry, transcription, and copywriting.
The amount you can earn from typing jobs depends on several factors, such as the pay rate per word or hour and the volume of work available.
Some typing jobs pay a minimum wage, while others pay per word or project. It's important to note that some companies may require a writing sample or specific qualifications before hiring you.
With dedication and effort, you can get more money from typing jobs and potentially even turn it into a full-time income stream.
How To Apply For The Jobs?
For the beginning, you can start by searching for jobs on freelancer platforms such as Fiverr, Upwork, or Freelancer. Those websites are like the job board for freelancers and for clients to look for services.
If freelance typing jobs have been elusive, or you've been looking for something remotely doable, why not give rev.com a try?
This platform is an excellent platform to freelance away and make some extra spending money – with little to no experience required. All you need is basic computer skills, a reliable internet connection, and a hard-working attitude.
Rev accepts Transcription and Caption freelancers from the following countries:
Australia
Canada
Ireland
Mexico
Netherlands
New Zealand
South Africa
United Kingdom
The United States*
*Note: excludes California
Are you 18 or over and a United States citizen or permanent resident? If so, check out Textbroker.com for textbroker typing jobs.
It's the perfect platform if you're looking to utilize those skillful typing fingers of yours and make some extra income without sacrificing those precious moments of freedom.
With their easy-to-use interface and rating system, finding the best typing jobs without investment has never been easier.
So what are you waiting for? Put your fingers to work and start earning today!
3. Fiverr
If freelance typing jobs have you in an uproar, then no worries! Fiverr is the perfect job board platform for your freelance needs.
Not only can you find freelance typing jobs but access an array of skills offered by experienced freelancers from all corners of the world.
With free registration, you can get creative and even outsource programming tasks — for a much lower price than a large corporation would offer. Worth checking out if freelance typing is in the cards right now!
4. freelancer.com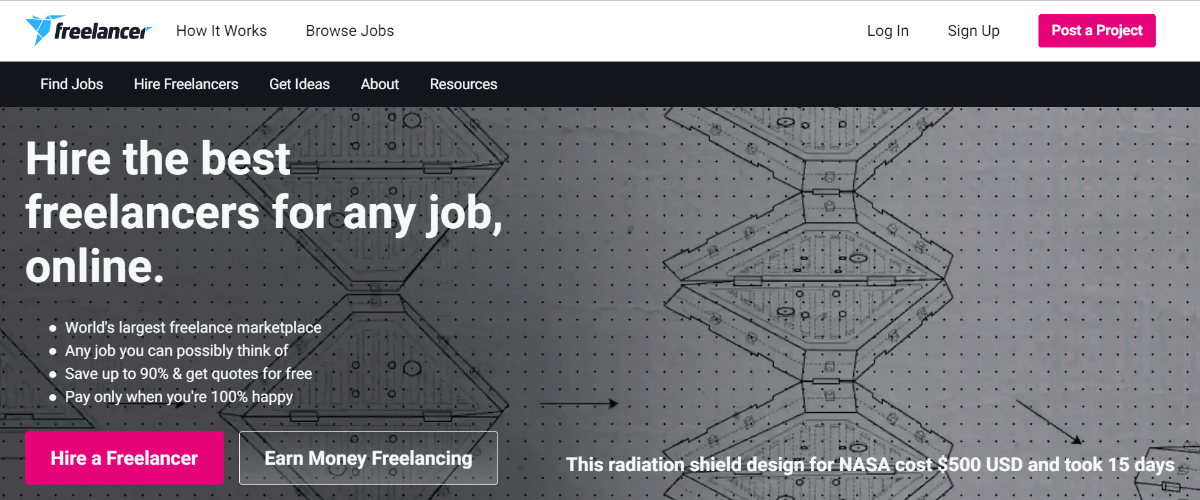 If you're looking for freelance typing jobs, Freelancer.com is one of the best typing jobs without an investment place to start.
Its user-friendly platform makes finding a job easy and efficient, with plenty of opportunities from employers around the world. You can search through available jobs, bid on projects that interest you, and even communicate directly with employers to negotiate payment terms.
Plus, with its intuitive rating system, you can rest assured that your hard work will be rewarded.
So why wait? Start putting those typing fingers to work and start earning money now!
5. Upwork
Are you new to the freelance world, but have a knack for typing? Then Upwork is the ideal website for you! With tons of job postings and a simple-to-use interface, you can make money doing data entry with no prior experience necessary.
Plus, its rating system allows clients to quickly find experienced freelancers they can trust – ensuring that the jobs you take are worth your time and effort.
6. 3playmedia.com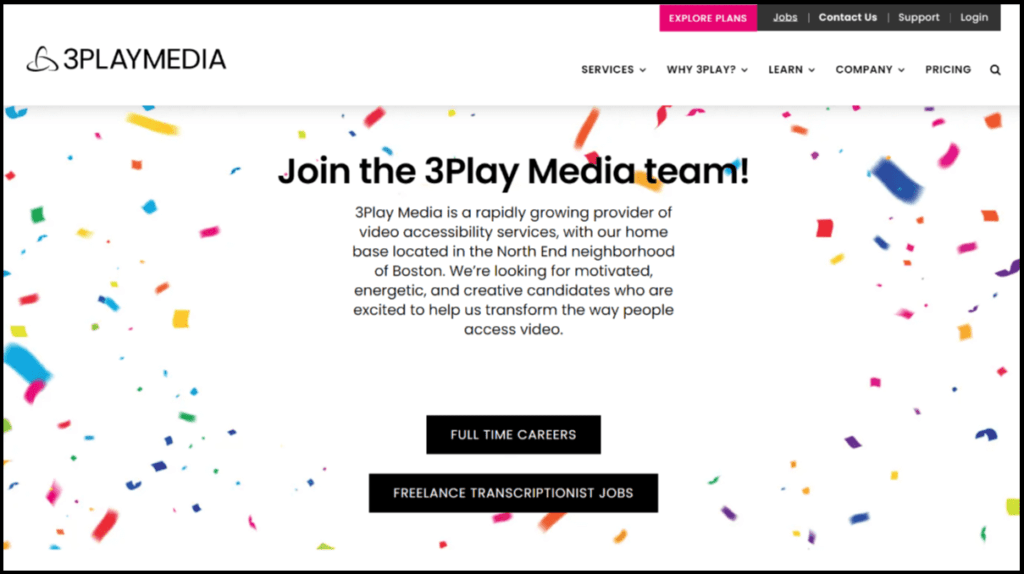 If you're a freelancer who's looking for more steady, long-term work than one-off gigs, then 3 Play Media is the perfect platform.
With jobs ranging from transcribing audio to captions and creating subtitles, 3 Play Media offers many opportunities that require no prior experience – but the willingness to learn!
Plus, its user-friendly interface allows you to easily stay on top of your tasks, communicate with employers, and receive payment quickly.
7. transcribeme.com
For those looking for freelance typing jobs from their home, TranscribeMe is perfect to get the job done.
This platform provides transcription and captioning opportunities with no minimum experience required – plus flexible hours and competitive rates so you can make money doing what you love while still having time for yourself.
And the best part? With a simple sign-up and quick turn-around times for payment, you can start earning money quickly!
So why wait? Sign up today and start turning your typing skills into extra income.
8. PeoplePerHour
Are you an experienced freelancer looking for more long-term projects? Then PeoplePerHour is the perfect platform to find freelance typing jobs that fit your schedule and pay well.
With an intuitive search system, you can quickly find opportunities that match your skills – plus communicate directly with employers to negotiate payment terms.
Plus, with a comprehensive rating system, both clients and freelancers can easily gauge whether or not a job is worth their time and effort.
So why wait? Sign up today and start putting those typing fingers to work!
Conclusion
There are plenty of opportunities available if you're looking to make money using just your typing skills without having to invest any bucks upfront! From data entry jobs to copywriting gigs, there's something here that everyone can do regardless of their experience level.
Start exploring these options today and start earning some extra cash while working from home! Good luck!
Frequently Asked Questions (FAQ)
What is a freelance writer?
Freelance typing is a self-employed online job that involves writing. Freelancers typically work under their circumstances, on their own time and setting.
Freelance typing has become one of the best online jobs to earn money online in your spare time.
Is becoming a freelance writer suitable for beginners?
Being a freelance writer can seem like a dream job for those who enjoy writing and are looking for a way to make some extra money from home.
However, many beginners may be unsure if they have the necessary writing skills to break into the industry. The good news is that becoming a freelance writer is a feasible option, even for those with minimal experience.
You can start to write blog posts and take on smaller projects to build up your portfolio and gain confidence.
With dedication and hard work, anyone can hone their writing skills and succeed as a freelance writer. Whether you're looking for a side hustle or a full-time career change, freelance writing is worth considering.
How to set rates for your writing?
As a freelancer, setting rates for your writing services can be a bit tricky. However, it is vital to get it right to establish a sustainable career in the industry.
Before setting your pay rate, consider factors such as your experience, industry standards, and the type of writing project you are undertaking.
It is also important to keep in mind that as a freelancer, you should not undersell your skills. You should get paid depending on the value you bring to your clients.
Do freelance writers need any special equipment or software to do their jobs?
Logically thinking, you don't need any special equipment when writing, all you need is the brain that does the thinking and a laptop or computer.
However, experienced freelance writers will say that they cannot live without helpful computer software to help them in every aspect, to help them be more efficient and productive.
What tools or resources you can use to improve your writing?
Here are a few examples of helpful software for freelance writers:
Proofread your writings and make sure there are no errors. Grammar checkers are the quality control that ensures that you are delivering high quality to clients.
There are artificial intelligence (AI) assistants implemented in software that can help you generate content based on the topic that you want to write when you run out of ideas. These AIs help you write fast and give high-quality content.
Once you start getting many requests and accumulating projects from different clients, you will need to be organized and manage your time well to accomplish all your projects.
It is important to note that some of these software costs bucks and requires some investment.
So if you are just starting, it shouldn't be a necessity for you yet but a plus if you do get them!
What are the challenges when you do freelance work?
Becoming a freelancer has a lot of benefits such as the flexibility to choose your projects, work from anywhere, work on your own hours, and flexible time management.
However, it also presents a set of unique challenges, such as:
One of the primary hurdles freelancers face is the inconsistent flow of freelance jobs and job opportunities. You may have several projects in a month and then none the next month.
Constant connecting building
Finding a steady stream of work requires constant networking, self-promotion, and building a solid reputation. Building connections is almost like marketing.
Differentiating work and rest
Balancing work and personal life becomes crucial, as it is easy to find yourself working around the clock or struggling to set boundaries. While freelancers have the potential to enjoy more free time, it often requires disciplined time management and self-motivation to make the most of it.